Windows Pose Safety Risk for Young Children, Experts Warn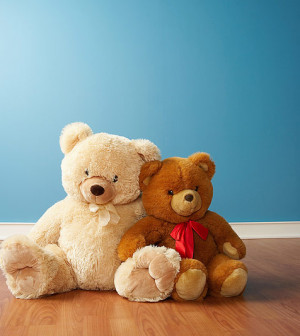 FRIDAY, July 8Along with rising summer temperatures, the number of youngsters injured after falling from an open window also increases, experts say, with many children requiring hospitalization.
Each year, roughly 3,300 children aged 5 years and younger are treated for falls from windows, according to the U.S. Consumer Product Safety Commission. Up to age 5 years, the majority of a child's weight is concentrated in the head. As a result, if these young children lean out a window, they are at greater risk for falling, doctors at the University of Michigan C.S. Mott Children's Hospital explained.
"Children younger than 5 are particularly curious about their environment and the events happening outside of a window are a natural draw for a child's attention," Dr. Michelle Macy, clinical lecturer of emergency medicine at the University of Michigan Medical School, said in a university news release. "Relatively large heads make it difficult for them to keep their balance, which is particularly true when they are leaning forward, like they do when trying to look out a window."
Window screens are not a solution to this safety problem, the experts warned. "A screen is not a safety device," Amy Teddy, Injury Prevention Program manager at Mott, stated in the news release. "They're designed to keep bugs out, but not to keep children in."
There are, however, more effective ways parents and other caregivers can help keep children safe this summer and avoid potentially fatal falls from windows. Health care professionals offer the following recommendations:
Supervise. Parents or caregivers should keep their eyes and attention focused on children when they are around open windows.
Move furniture away from the window. Placing a crib, bed or even a chair next to a window could enable small children to climb onto the window's ledge and gain easier access to the window opening.
Minimize openings. Make sure windows on upper floors are closed or never open more than a few inches. As a rule of thumb, if children can fit their head through the open space, they can fall out.
Lock them up. Keep windows closed and locked when they are not being used.
"Bottom line, parents need to take extra precautions around windows and keep young children within arms' reach when windows are open," concluded Macy.
The medical experts at Mott also noted that if a child does fall from a window, call 911 immediately. Never attempt to move a child who appears to be seriously injured, they added.
More information
The American Academy of Pediatrics provides more tips on window safety.
Source: HealthDay
​