Whites, Blacks More Likely to Develop Lung Cancer: Study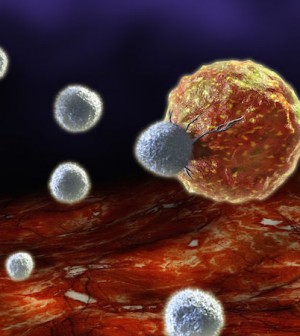 WEDNESDAY, Nov. 10Whites and blacks in the United States are much more likely to develop lung cancer than other racial/ethnic groups, a new federal study finds.
Researchers analyzed 1998 to 2006 data from 38 states and the District of Columbia. They found that the annual incidence of lung cancer per 100,000 people was 76.1 for blacks, 69.7 for whites, 48.4 for American Indians/Alaska Natives (AI/ANs), 38.4 for Asian/Pacific Islanders, and 37.3 for Hispanics.
People ages 70 to 79 had the highest incidence of lung cancer at about 463 cases per 100,000. Incidence was highest in the South (76 percent) and lowest in the West (about 59 percent), the study found.
Among whites, the highest incidence of lung cancer was in the South (76.3). The highest rates among blacks (88.9), AI/ANs (64.2) and Hispanics (40.6) were in the Midwest. The highest rates among Asian Pacific Islanders was in the West (42.5).
The variations may be due to regional differences in smoking prevalence, exposure to cancer-causing substances, and other factors, according to the study.
"These findings identify the racial/ethnic populations and geographic regions that would most benefit from enhanced efforts in primary prevention, specifically by reducing tobacco use and exposure to environmental carcinogens," the researchers wrote.
The study appears in the Nov. 12 issue of the Morbidity and Mortality Weekly Report, published by the U.S. Centers for Disease Control and Prevention.
Lung cancer is the second most common cancer and the leading cause of cancer death in the country, according to the CDC.
More information
The U.S. National Cancer Institute has more about lung cancer.
Source: HealthDay
​