Survivor Builds 'Cancer-Fighting' House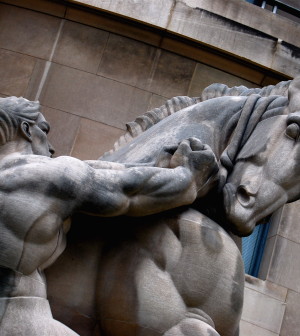 FRIDAY, Sept. 2At age 36, Charles Ruma had a wife, young son and a successful career as a home builder. His diagnosis with testicular cancer came as a shock.
"At the time I thought cancer was a disease of the older population," Ruma said. "I felt healthy and strong and I had no idea anything was wrong. It was scary to hear those words."
During his recovery from surgery to remove the tumor, Ruma decided he wanted to do something to aid the fight against cancer.
So Ruma, with the help of experts at the Ohio State University Comprehensive Cancer Center at Arthur G. James Cancer Hospital where he was treated, put his skills to work and built "Home for Hope," a "cancer-fighting" house, using materials that are free of carcinogens and a layout designed to promote the sort of healthy lifestyle that studies suggest offers some protections from cancer.
In the kitchen of the 3,100-square-foot house in Dublin, Ohio, there's a steam oven, a cooking method that helps to retain nutrients in food and prevents meats from becoming charred. Meat cooked to high temperatures by frying or grilling over an open flame, especially if it's charred or well-done, has been linked to pancreatic cancer, studies suggest.
In the yard, they planted a vegetable garden with assorted fruits and vegetables, including broccoli, cauliflower, blackberries, blueberries and tomatoes. Though no one food has been proven to prevent cancer, research does show that a plant-based diet may help, according to the American Institute for Cancer Research.
Research shows that a diet high in animal fats may increase risk of colon cancer, and that eating a diet high in fiber may help prevent it, said Dr. Steven Clinton, a professor of medical oncology and director of genitourinary oncology at James Cancer Hospital.
Obesity has also been linked to certain types of cancers, including colorectal, breast and kidney, Clinton said. To encourage exercise, the "cancer-fighting" house is built next to a park with walking and hiking trails, and features a home gym over the garage.
When building the house, Ruma also chose the materials carefully, including using formaldehyde-free insulation.
According to the U.S. Environmental Protection Agency, formaldehyde is widely used in the manufacture of building materials such as pressed wood products. Formaldehyde is on the EPA's list of known carcinogens. Research has shown the chemical causes cancer in animals and "may cause cancer in humans," the EPA warns.
In the 1970s, many homeowners used foam insulation in their wall cavities that contained formaldehyde, and shortly after installation, the homes were found to have higher than normal concentrations of the chemical in the air, according to the EPA.
However, few homes use that sort of insulation today, and even in older homes, formaldehyde emissions fall over time and the old insulation is not likely to be a problem today, according to the EPA.
Other features: an indoor air filter that uses technology used in intensive care units of hospitals; paint and stain that's low in volatile organic compounds, some of which the EPA also lists as known or suspected carcinogens; and other "green" building materials that are free of potentially harmful chemicals or other toxins.
No one is suggesting that if you paint your house you're going to get cancer, Clinton said. "It's unclear how much it would take to cause cancer, or what combinations of chemicals would cause it, what kind of cancer you'd get, and what the other susceptibilities are," Clinton said. "But the general principle of minimizing your exposure is one we can all adhere to."
Ruma broke ground last December and put the finishing touches on the house in May. The house was auctioned off June 25 and sold for $400,000. Nearly $70,000 in profits went to the James Cancer Hospital and Livestrong, the Lance Armstrong Foundation. Armstrong, a champion cyclist, is a fellow testicular cancer survivor.
It's hard to say to what extent a home with these features can help prevent cancer, Clinton said. "You can't quantify how many of these items are going to impact your risk, but if you want to live a long and healthy life, you need to orchestrate your life around healthy living," he said. "When combined, we think all of these efforts allow one to do that."
More information
The U.S. National Cancer Institute has more on how lifestyle can help prevent cancer.
Source: HealthDay
​