Radiation After Surgery Lowers Chances of Breast Cancer's Return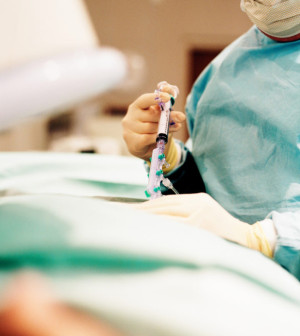 TUESDAY, Dec. 7
Women with localized breast cancer are less likely to develop invasive cancer if they receive radiation after surgery, a new study finds.
The researchers also found that treatment with the drug tamoxifen greatly reduced the risk of the recurrence of localized cancer.
The three-nation study included patients with ductal carcinoma in situ (DCIS), the most common type of noninvasive breast cancer, who were followed for a median of 12.7 years.
The researchers found that radiation after surgery reduced the risk of invasive cancer in the same breast by nearly 70 percent and decreased recurrent DCIS in the same breast by more than 60 percent. Radiation therapy had no effect on the other breast.
"This study is very important in confirming the benefits of radiotherapy in the treatment of ductal carcinoma in situ and, most importantly, decreasing the incidence of invasive carcinoma developing in the same breast," said Dr. Lauren Cassell, chief of breast surgery at Lenox Hill Hospital in New York City. "If we could only identify which particular patients were most at risk, we could target our radiotherapy to those patients who truly benefit from it and avoid over-treating others."
The study also found that treatment with tamoxifen lowered the risk of cancer recurrence in the same breast by about 30 percent, and it decreased the risk of new cancer in the other breast by more than 65 percent.
The findings appear online Dec. 7 in The Lancet Oncology.
The findings confirm "the long-term beneficial effect of radiotherapy and reports a benefit for tamoxifen in reducing local and contralateral new breast events for women with DCIS treated by complete excision," study author Jack Cuzick, of Cancer Research U.K. and Queen Mary's School of Medicine and Dentistry in London, and colleagues wrote in a news release from the journal.
"This trial emphasizes the importance of radiotherapy in high-grade [more quickly growing and more likely to spread] DCIS and also suggests a role for tamoxifen, primarily for new contralateral disease," they concluded.
More information
The American Cancer Society has more about breast cancer.
Source: HealthDay
​