Obese Colon Cancer Survivors Face Poorer Prognosis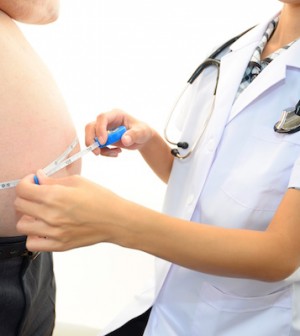 TUESDAY, March 9Colon cancer survivors who are moderately or severely obese face tougher survival odds following treatment compared with their normal-weight peers, a new study reveals.
The finding builds on prior research that established that being obese raises the risk for developing colon cancer in the first place.
"Previous studies have shown that obesity does influence the risk of developing colon cancer, but this study takes it one step further," said study author Dr. Frank A. Sinicrope, a professor of medicine and oncology at the Mayo Clinic in Rochester, Minn. "Because now we know that if you're obese, you have a higher risk of cancer recurrence or death for patients who have established colon cancer."
Sinicrope and his colleagues, whose work was funded in part by the U.S. National Cancer Institute, report their findings in the March 15 issue of Clinical Cancer Research.
The American Cancer Society estimates that last year more than 106,000 Americans were newly diagnosed with colon cancer, while nearly 50,000 men and women died from the disease.
To explore a potential connection between obesity and colon cancer survival, the authors analyzed data concerning 4,381 men and women who had been diagnosed with either stage II or stage III colon cancer. All of the patients had undergone both surgical removal of their cancer and subsequent chemotherapy.
Based on body mass index (BMI), which is a measurement that takes into account weight and height, the researchers determined that approximately 20 percent of the patients were obese (above 30 on the BMI chart). Among that group, about seven in 10 patients were classified as "moderately obese" (BMI between 30 and 34.9), while slightly more than one-quarter were "very obese" (BMI of 35 and up).
About 37 percent of the patients were normal weight (BMI of 20 to 24.9), while a similar number were deemed overweight (BMI of 25 to 29.9). Six percent were classified as underweight (BMI under 20).
Tracking all the cancer survivors for an average of eight years, Sinicrope and his associates observed that 36 percent went on to experience cancer recurrence, while 42 percent ultimately died.
Furthermore, the researchers found that, taken as a group, being either moderately or very obese was associated on average with a 19 percent increase in the risk for death, when compared with normal-weight cancer patients.
Although the pool of underweight patients was considerably smaller, the researchers found that the underweight group also had a much poorer survival rate than normal-weight patients. And while overweight patients actually seemed to fare slightly better (by 6 percent) than normal-weight survivors, Sinicrope indicated that more sophisticated obesity measurements that take into account muscle-mass ratios (not revealed by BMI) could yield slightly different results.
Gender differences were also apparent.
With a patient pool that was more or less evenly divided between men and women, the authors found that taken on their own, the most severely obese men faced the highest risk for cancer recurrence and death — tagged as a 35 percent increase, relative to normal-weight patients.
However, women on the lowest end of the obesity scale were linked to a 24 percent increased risk for death — a risk that actually dropped down to 11 percent as obesity rose.
"For now, we don't really have a clear explanation for why the moderately obese women did worse than the very obese women," said Sinicrope. "Menopausal status and hormone replacement therapy — which could be protective against colon cancer — could both be factors. But we don't know which women were pre- or postmenopausal and which were taking this medication."
As for what general underlying cause accounts for the obesity-survival risk connection, Sinicrope said the question remains unanswered. But he speculated that the association might result from the presence of higher insulin and insulin-like growth-factor-1 hormone levels in obese patients.
"We know the obese patients have higher levels of both these hormones, which have been associated with both obesity and colon cancer risk in the past," he noted. "So we think that could be playing a role in this risk."
A number of variables could explain the findings, said Dr. Joseph Martz, chief of the division of colorectal surgery at Beth Israel Medical Center in New York City.
"Obesity is often associated with a higher likelihood for diabetes and other diseases, and overall secondary immune dysfunction. And since colon cancer is somewhat of an immune disease, that is going to be a driving factor," he noted.
"There is also a good deal of data already regarding the supportive benefit of exercise and activity after colon cancer treatment in terms of prognosis," Martz added. "So I think that goes along with the concept that obese individuals are less likely to be in shape. Also, there may be some inherent surgical limitations that could compromise the technical ability to achieve complete removal of the cancer and the potentially affected lymph node tissues when operating on an obese person. All of this may play a role."
On a related front, a separate study published this week in the Journal of the National Cancer Institute provides fresh evidence that being obese does appear to be linked to a higher risk for colon cancer.
However, the research team — led by Peter T. Campbell of the epidemiology research program at the American Cancer Society — also found that the obesity-survival link does not seem to hold for all tumors, but only for those that are so-called "microsatellite stable." Obese patients who had this common type of tumor had lower five-year survival rates than obese patients with "microsatellite-high" tumors, suggesting that obesity has a varying impact on prognosis, depending on the kind of colon cancer at hand.
More information
For more information on colorectal cancer, visit the American Cancer Society.
Source: HealthDay
​