Xarelto Approved to Prevent Stroke in People With Abnormal Heartbeat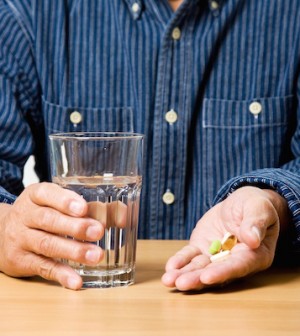 FRIDAY, Nov. 4The anti-clotting drug Xarelto (rivaroxaban) has been approved by the U.S. Food and Drug Administration to prevent stroke in people with atrial fibrillation, a common form of irregular heartbeat.
More than 2 million Americans have atrial fibrillation, in which the heart's two upper chambers beat irregularly, the FDA said in a news release. The condition can lead to the formation of a blood clot, which can travel to the brain and cause a stroke. The new drug was approved for cases in which the atrial fibrillation is unrelated to the performance of the heart's valves.
Xarelto's safety and effectiveness were compared to those of another anti-clotting drug, warfarin, in clinical studies involving some 14,000 patients. Xerelto was deemed similar to warfarin in its ability to prevent stroke, the FDA said.
As with other anti-clotting drugs, Xarelto has the ability to cause bleeding, which in rare cases can lead to death, the agency said.
The drug's label has the FDA's most urgent "black box" warning that the drug should never be discontinued before the patient discusses the situation with a physician. Stopping the drug could increase the risk of stroke, the FDA warned.
In July, Xarelto received initial approval to reduce a user's risk of blood clots, deep vein thrombosis and pulmonary embolism after replacement surgery of the knee or hip.
The drug is marketed by Janssen Pharmaceuticals, based in Titusville, N.J.
More information
To learn more about atrial fibrillation, visit the U.S. National Heart Lung and Blood Institute.
Source: HealthDay
​