Low-Dose Platelet Transfusions Deemed Safe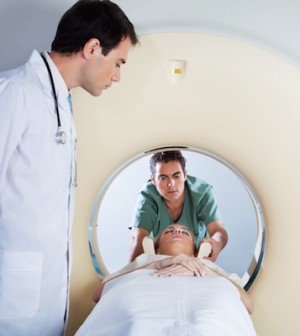 WEDNESDAY, Feb. 17A lower dose of platelets than is commonly used is safe for people who require transfusions of the clot-forming blood cells, a new study shows.
That's good news for people getting chemotherapy or bone marrow transplants because platelets are often in short supply, said Dr. Victor M. Aquino, a member of the research team whose findings are reported in the Feb. 18 issue of the New England Journal of Medicine.
Frequent platelet transfusions — once or even twice a day — are needed for such patients because "chemotherapy damages the bone marrow and causes the body not to produce platelets," said Aquino, an associate professor in the pediatric hematology-oncology division at the University of Texas Southwest Medical Center. "They need to be replaced to prevent bleeding."
The study included 1,272 people who had at least one platelet transfusion. They were divided into three groups, depending on the number of platelets in each transfusion. The high-dose group got the usual amount, roughly 10 trillion cells, and the low-dose group got half that number.
The researchers observed no significant difference in the amount of bleeding among the three groups, the report said.
"You can safely transfuse patients with about one-third the dosage of platelets we normally use," Aquino said.
More frequent transfusions were required for the low-dose group, "but you use fewer platelets in the long run," he said.
Another major finding was that it's safe to allow the blood platelet count to go lower than what is now regarded as the danger point, said study author Dr. Sherrill J. Slichter, a professor of medicine at the University of Washington and director of platelet transfusion research at the Puget Sound Blood Center.
Platelet transfusions are commonly given when blood levels drop below 10,000 cells per cubic millimeter of body-surface area. The study found no danger when platelet counts went as low as 5,000 per cubic millimeter. "As long as you have a morning platelet count of at least 5,000 or greater, the risk of bleeding is essentially the same," Slichter said.
The findings will almost certainly change clinical practice, Slichter and Aquino said. "In our patients, we now transfuse at the lower number," Aquino noted.
Reducing platelet usage would have a number of benefits, Slichter said. "It's an expensive product, and if you can use fewer, that is a cost savings for patients, insurers, hospitals and blood centers," she said.
Platelet supplies must be renewed constantly because they don't last long outside the body, she said. "They have a half-life of five days," Slichter said. "The half-life of red cells is 43 days."
Publication of the study results "hopefully will change transfusion practice," she said.
"In the dose range we used, there was absolutely no effect of dose on the risk of bleeding," Slichter said. "Smaller doses are as hemostatically effective as larger doses."
"This is very good news," said Dr. Donna L. Skerrett, director of transfusion medicine and cellular therapy at New York-Presbyterian/Weill Cornell Medical Center in New York City. "It answers a question that has been asked for quite a while: whether platelet dosage really matters."
Because of the short half-life of platelets, supplies often drop during weekends and because of storms or even holidays, Skerrett said. "It is extremely valuable to know that dosage can be reduced at those times with no harm to patients," she said.
More information
The American Red Cross has more on platelet donation.
Source: HealthDay
​