Too Many With End-Stage Dementia Get Feeding Tubes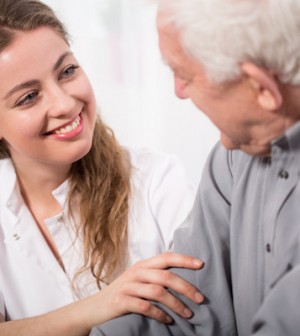 TUESDAY, Feb. 9Larger hospitals and those that are set up to make a profit are more likely to use feeding tubes in patients with advanced dementia, despite evidence that the practice does not prolong life or help with bed sores and other problems.
"Our results suggest that decisions about feeding tubes are more about which hospital you go to than a decision-making process that really elicits and supports patient choice," said Dr. Joan Teno, whose study appears in the Feb. 10 issue of the Journal of the American Medical Association. "We have good evidence from surveys with people in nursing homes and of family members of people with dementia that the majority would rather die than receive a feeding tube."
According to prior research, more than one-third of U.S. nursing home residents with advanced dementia have feeding tubes. About two-thirds of these have the tube inserted during an acute-care hospitalization.
Teno and her colleagues looked at a sample of Medicare claims filed for nursing home residents who had been admitted to acute-care hospitals with advanced dementia between 2000 and 2007.
On average, feeding tubes were placed in 7.9 per 100 patients, with the variation ranging from 0 to 38.9 per 100 hospitalizations.
For-profit hospitals, along with facilities that had 310 beds or more and those that had the most use of intensive care during the last six months of a person's life, were more likely to use feeding tubes.
Part of the reason for the differences probably has to do with the health-care system, said Teno, who is a professor of community health at the Warren Alpert Medical School of Brown University in Providence, R.I.
"We have really two separate financing systems for people who are in nursing homes," she explained. "We have Medicaid that pays for custodial care and Medicare that pays for acute care, and these two systems don't work with each other very well."
Nursing homes have an incentive to send patients to hospitals, where someone else will pay for them and, as a result patients tend to be shuffled around.
"They often get very stressed out, have disruptive behavior, get medicines to treat that behavior, which leads them to developing bed sores and problems with eating, which leads to having a feeding tube inserted," Teno said. "Part of what we need to do is align the incentives to keep frail older dementia patients in the least restrictive setting that will provide the best medical care."
But much of the issue derives from lack of information or misinformation, as well as the sheer trauma of going through this process with a loved one.
For instance, many people are simply not aware that dementia is a terminal disease, as evidenced by a previous study that was published in October. "It is the fifth or sixth leading cause of death," Teno said.
And often, no one has a clear idea of what the patient would have wanted.
"Feeding is obviously a very emotional issue for families and . . . families have difficulty at times not pursuing feeding tubes," added Dr. Laurie Jacobs, vice chair of medicine at Montefiore Medical Center and Albert Einstein College of Medicine in New York City. "I don't think that the message is out there strongly enough that this treatment is not of benefit and patients don't live any longer, and treatment can impose quality-of-life issues on patients," Jacobs explained.
"When I talk to families, I say that really our goals here are to focus on what I call 'comfort feeding,' trying to maintain interaction with the family member and only to feed the patient as long as it feels safe and comfortable, and not to be in a situation shoveling food down them to try to maintain their weight," Teno said. "I have seen some really horrendous things happen, such as a tooth getting broken because an aide was trying to get food into the patient."
More information
Brown University has data on feeding-tube insertion rates at different hospitals.
Source: HealthDay
​