Mom's Lifestyle in Early Pregnancy Affects Baby's Size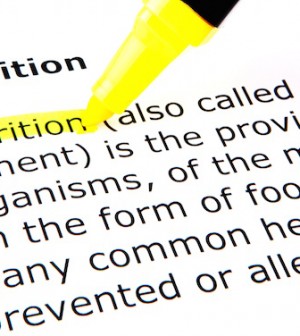 TUESDAY, Feb. 9The lifestyle habits you bring into pregnancy can have lasting effects on your baby's health, new research shows.
A Dutch study found that women who smoked, had high blood pressure or low folic acid levels in early pregnancy had babies that were smaller in the first trimester of pregnancy and had a higher risk of complications later.
"Our study demonstrates that several maternal physical characteristics and lifestyle habits, such as smoking and non-use of folic acid supplements, affect first-trimester fetal growth," said study senior author Dr. Vincent Jaddoe, a pediatric epidemiologist at Erasmus Medical Center in Rotterdam, the Netherlands.
"First-trimester growth restriction is associated with higher risks of adverse birth outcomes and accelerated postnatal growth rates. Thus, the first trimester of pregnancy seems to be a very critical period for fetal growth and development. This is important, since it suggests that the fetus is already affected before pregnant women visit their midwife or obstetrician," he said.
For the study, published in the Feb. 10 issue of the Journal of the American Medical Association, the researchers followed 1,631 pregnant women from their first trimester through their pregnancies. The growth of their offspring was assessed until the children were 2.
The average age of the mothers was 31, and 71 percent were white. More than half had a higher than high school education. The average body mass index was 23.5, which is normal (over 25 is considered overweight). About one-quarter smoked at the start of the study.
The researchers found that certain factors affected the likelihood that a fetus would have a small crown to rump length (a standard way to measure babies using ultrasound). Babies whose mothers smoked or had higher diastolic blood pressure readings (diastolic is the bottom number in blood pressure) were more likely to be smaller. Women who didn't use folic acid supplements and those with higher levels of red blood cells also had smaller babies, according to the study.
A small size during the first trimester translated to a higher risk of certain complications later in the pregnancy, such as preterm birth and low birth weight.
Babies that had first-trimester growth restriction had 7.2 percent odds of being born preterm compared to 4 percent for babies who weren't growth-restricted. Odds of low birth weight were 7.5 percent for growth-restricted babies compared to 3.5 percent for other babies. And, the odds of being born small-for-gestational-age were 10.6 percent for babies who were growth-restricted compared to 4 percent for babies who grew normally during early pregnancy.
Jaddoe and Dr. Gordon Smith, author of an accompanying editorial in the same issue of the journal, believe that when a woman is exposed to poor lifestyle habits in early pregnancy, it may affect development of the placenta, which then affects the fetus' ability to survive and thrive.
"Many adverse outcomes of later pregnancy are related to abnormal function of the placenta," explained Smith, head of obstetrics and gynecology at the University of Cambridge in England. "Many key processes in the establishment of a normal placenta take place in early pregnancy. I think that if the placenta fails to develop normally in early pregnancy, it is impaired for the rest of the pregnancy, hence the associations with later complications."
The bottom line for women is that it's important to go to the doctor before getting pregnant to find out what steps to take to ensure that you're in the best shape possible before you get pregnant, such as quitting smoking and taking folic acid supplements.
"The fetus is very vulnerable, especially during the first trimester of pregnancy. For women who are planning to become pregnant, it seems important to optimize their lifestyle habits before they become pregnant. From a health care perspective, we need to consider preconception care to help women to optimize their lifestyle habits before they become pregnant," advised Jaddoe.
More information
Learn more about having a healthy pregnancy from the U.S. National Women's Health Information Center.
Source: HealthDay
​