Energy Drinks, Alcohol a Dangerous Mix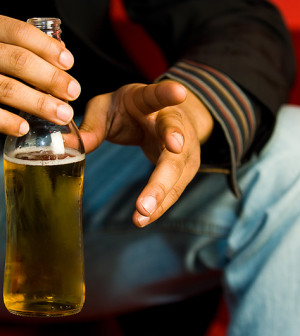 THURSDAY, Feb. 11Mixing caffeine-laden energy drinks and alcohol is popular among young Americans, but it can lead to higher rates of drunkenness and impaired driving, a new study suggests.
University of Florida researchers surveyed more than 800 college-age patrons leaving bars between 10 p.m. and 3 a.m. The participants were asked about their energy drink and alcohol consumption and then had their breath-alcohol concentration levels measured.
The 6.5 percent of participants who said they'd been drinking alcohol mixed with energy drinks were three times more likely to be drunk than those who consumed alcohol only. The average breath-alcohol reading for those who consumed alcohol and energy drinks was 0.109, well above the legal limit of 0.08, the study authors noted.
The researchers also found that bar patrons who mixed alcohol and energy drinks left the bar later, drank for longer periods of time, and were four times more likely to say they planned to drive within the hour, compared to those who drank alcohol only, according to the report in the April issue of the journal Addictive Behaviors.
"There's a very common misconception that if you drink caffeine with an alcoholic beverage the stimulant effect of the caffeine counteracts the depressant effect of the alcohol, and that is not true," study co-author Bruce Goldberger, director of toxicology in the University of Florida College of Medicine, said in a news release from the school.
Caffeine simply reduces the sleepy feeling caused by alcohol. This condition, described as "wide awake and drunk," can lead to risky behaviors, Goldberger explained.
It's believed that as many as 28 percent of college drinkers consume alcohol mixed with energy drinks in a typical month.
"This study demonstrates that there definitely is reason for concern and more research is needed," study author Dennis Thombs, an associate professor in the department of behavioral science and community health at the University of Florida College of Public Health and Health Professions, said in the news release.
"We don't know what self-administered caffeine levels bar patrons are reaching, what are safe and unsafe levels of caffeine, and what regulations or policies should be implemented to better protect bar patrons or consumers in general," Thombs added.
More information
Health Canada has more about energy drinks.
Source: HealthDay
​