Women With Heart Failure Treated as Well as Men: Study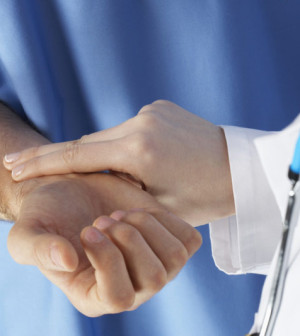 TUESDAY, Aug. 23Women suffering from heart failure receive roughly the same quality of care as men in hospitals that follow American Heart Association guidelines,
according to a new study.
Even though women admitted for heart failure were generally older than men (average age 74 vs. 69), women were no more likely to die in the hospital.
"We've previously had little data on the quality of care women hospitalized with heart failure receive in the hospital, and we had no idea if they were receiving the same quality of care as men," study author Dr. Liviu Klein, a cardiologist at Northwestern Memorial Hospital in Chicago, said in a news release. "We're happy to find that, for the most part, they are."
The study is published in the Aug. 23 issue of the journal Circulation: Heart Failure.
Researchers examined the records of nearly 100,000 patients treated for heart failure at 247 hospitals over the course of five years. All of the hospitals followed the American Heart Association's "Get With the Guidelines – Heart Failure Program," which calls for hospitals to take steps to improve heart failure care. Those steps include prescribing certain medications, running certain tests and giving information on lifestyle changes and post-discharge self-care.
The study found that women were as likely as men to receive written discharge instructions, certain medications such as beta blockers and counseling to quit smoking.
However, women were less likely to receive a measurement of how well the heart pumps blood, implantable defibrillators or blood thinners. That's worrisome, researchers said, because women have a higher risk for stroke as a result of atrial fibrillation.
Women were also more likely to have hypertension, but less likely to have coronary disease or renal insufficiency than men.
The study's authors concluded that more research is needed to explain the gender differences in lengths of hospitalizations and treatments for patients with heart failure.
Nearly 6 million Americans suffer from heart failure, a condition in which the heart doesn't pump blood as well as it should.
More information
The U.S. National Institutes of Health provides more information on heart disease in women.
Source: HealthDay
​