U.S. Failing to Meet Goals for Women's Health: Report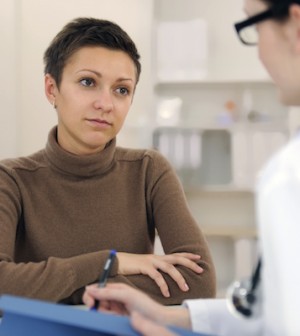 THURSDAY, Dec. 9The United States has failed to reach almost every goal set for women's health, a new report says.
Conducted by the National Women's Law Center and Oregon Health Sciences University (OHSU), the report — based largely on federal objectives drawn from the U.S. Department of Health and Human Services' Healthy People 2010 agenda — is the fifth in a 10-year look at the status of women's health in this country. In this latest analysis, a satisfactory rating was only handed out on three of 26 measures of good health for women.
"If you look at the nation overall, the nation hasn't done that well," Dr. Michelle Berlin, vice chair of the report and associate director of the OHSU Center for Women's Health, said during a news conference on Wednesday.
The three goals that have been met throughout the country are the number of women receiving mammograms, the number of women getting screened for colorectal cancer and the number of women going for annual dental visits, Berlin said.
Since 2000, there has been some progress in reducing deaths from heart disease, stroke and breast and lung cancer. And, fewer women are smoking, the report found.
However, more women are obese and more suffer from high blood pressure and diabetes. Also, fewer women are getting Pap tests for cervical cancer, and the incidence of Chlamydia and binge drinking are on the increase, the report showed.
Berlin noted that these data also vary state-to-state, so that although some goals have been met nationally, individual states may be falling behind. "The range is pretty concerning," she said.
In fact, no state was given a overall satisfactory grade for women's health and only two states, Vermont and Massachusetts, got the next highest grade of "satisfactory minus." Thirty-seven states received an unsatisfactory grade, and 12 were given an F.
States ranking at the bottom include Alabama, Arkansas, Louisiana, Mississippi, Oklahoma and West Virginia.
In addition to health goals, the report looked at 68 federal health policies. Medicaid coverage for breast and cervical cancer treatment and participation in the Food Stamp Nutrition and Education Program were the only of these goals that were met.
Nine states met a majority of the goals, with California, Massachusetts, New Jersey and New York meeting the most. The four states that met the fewest were Alabama, Idaho, Mississippi and South Dakota, according to the report.
The hope is that provisions of the Affordable Care Act, signed into law by President Barack Obama in March, will slowly improve the grade nationally and within each state, the report said.
For example, four of the Medicaid eligibility and enrollment goals will be met when new Medicaid eligibility rules take effect in 2014. In addition, coverage of preventive services by private insurers, such as Pap smears, mammograms and osteoporosis screenings, have been met by mandating the coverage of such services with no cost-sharing, which became effective in September, the report noted.
Other findings in the report include:
One in five women between the ages of 18 and 64 is uninsured, the highest rate since the U.S. Census Bureau began reporting such data.
No state met the Healthy People 2010 goal of 100 percent of women having health insurance.
Almost 50 percent of all pregnancies are unintended, missing the goal of reducing unintended pregnancies to 30 percent or less.
Only seven states require that prenatal care services be covered in all individual and group health plans.
Only eight states require private insurers to cover contraceptives.
Nineteen states restrict private insurers' coverage of abortion services.
The District of Columbia has the highest heart disease death rate at 174.8 deaths per 100,000.
Hawaii has the lowest heart disease death rate at 60.9 per 100,000.
More than 33 percent of women in Mississippi are obese, the highest rate in the nation, compared with 19 percent in Colorado, the lowest.
Nearly 13 percent of women in West Virginia have diabetes, the highest rate in the nation, compared with 5 percent in Alaska, the lowest.
Dr. Olveen Carrasquillo, chief of the division of general internal medicine at the University of Miami Miller School of Medicine, said he was "not surprised by the report."
"The reductions in the biggest killers of women, cardiovascular disease and some cancers, are probably the biggest victories we have had in health in the last 20 years," he said. "But clearly there are a ways to go."
Carrasquillo noted that it is not surprising to see diabetes levels rising as obesity and lack of physical activity increase among women. That also accounts for the increases in blood pressure, he said.
The increase in binge drinking may just indicate that women are catching up with men, Carrasquillo noted.
The new report, titled Making the Grade on Women's Health: A National and State-by-State Report Card, makes it critical that prevention and wellness programs continued to be funded under health care reform, he said.
More information
For more information on women's health, visit the U.S. National Women's Health Information Center.
Source: HealthDay
​