Pregnancy May Protect Breast Cancer Survivors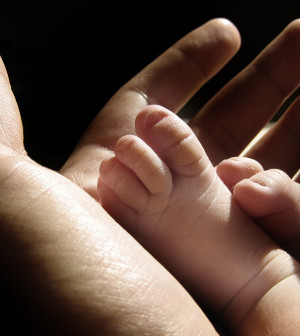 THURSDAY, March 25New research suggests that women who become pregnant after having had breast cancer may actually improve their survival odds, a notion contrary to what some medical experts had thought.
The finding is significant, given that the death rate from breast cancer is on the decline and more women are delaying pregnancy until later in life, the study authors said.
The new study joins two others looking at breast cancer and pregnancy, all of which are being presented this week at the European Breast Cancer Conference, in Barcelona.
Women in their childbearing years are more likely to develop breast cancer than any other malignancy.
The first study was a meta-analysis of 14 prior trials — published between 1970 and 2009 — involving approximately 20,000 women with a history of breast cancer, some pregnant and some not.
The researchers, from Belgium, Greece and Italy, found that women who became pregnant following a breast cancer diagnosis had a 42 percent lower risk of dying than women with breast cancer who didn't get pregnant.
Why would this be the case?
Possibly hormones, the study authors speculated. Although estrogen is known to fuel breast cancer tumors, above a certain level, they can actually protect against the disease. Also, a mother produces antibodies during pregnancy that may be protective.
"This is the largest meta-analysis to confirm this, but this has been known from previous, smaller studies from major institutions," said Dr. Jay Brooks, chairman of hematology/oncology at Ochsner Health System in Baton Rouge, La.
Dr. Paul Tartter, senior attending physician at St. Luke's-Roosevelt Hospital's Comprehensive Breast Center in New York City, acknowledged that this was good news, but said "the average physician, including gynecologists, will still tell patients not to get pregnant after being treated for breast cancer. There's a tremendous mythology that we just can't shake."
"This has the strength of a meta-analysis. but it's controversial," said Dr. Massimo Cristofanilli, chairman of medical oncology at Fox Chase Cancer Center in Philadelphia. "Previous studies have shown that these women had no worse outcome. This may be too optimistic."
A second study of almost 3,000 Australian breast cancer patients found that women who were diagnosed with a tumor within a year of giving birth were almost 50 percent more likely to die compared with other women of the same age.
On the other hand, if the women were diagnosed during pregnancy, they had roughly the same odds of survival as other women.
This led the authors to surmise that breast cancer might be dependent on the timing of a woman's pregnancy or that breast changes during breast-feeding might conceal a tumor until it is more advanced.
In any event, patients in this situation might want to explore more aggressive treatment options with their doctors, the Australian researchers noted.
"I don't think anybody knows what the timeframe is from having been treated and when it's a good idea to have a child," said Leena Hilakivi-Clarke, a professor of oncology at Georgetown Lombardi Comprehensive Cancer Center in Washington, D.C. "But if the tumor has been satisfactorily treated and there is nothing growing in the breast, then the pregnancy should be protective."
A final study, from German researchers, found that chemotherapy given during a woman's pregnancy does not harm the developing fetus, meaning that women who are diagnosed with breast cancer while they are pregnant can go ahead and receive standard therapies to treat their tumors.
More information
The U.S. National Cancer Institute has more on breast cancer and pregnancy.
Source: HealthDay
​