Painkillers in Pregnancy May Harm Son's Fertility, Study Suggests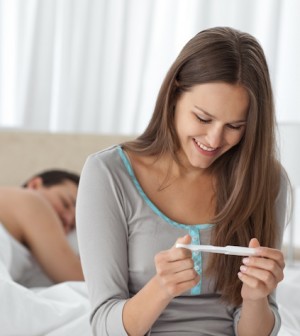 THURSDAY, Nov. 11Pregnant women who use mild painkillers may boost the risk that their male children will grow up to be infertile, a new European study suggests.
Commenting on the study, a U.S. researcher said the findings are weak, although he thinks pregnant women should be careful around painkillers, including aspirin, ibuprofen and acetaminophen, for another reason: miscarriages.
The European study, which included 834 women in Denmark and 1,463 in Finland, found that women who combined more than one mild painkiller at the same time were seven times more likely to give birth to sons with undescended testicles compared to women who took no painkillers.
In particular, the second trimester seemed to be the most vulnerable time, with any use of mild painkillers during that time period more than doubling the risk, the study authors noted in a news release from the European Society of Human Reproduction and Embryology.
Combining more than one painkiller during the second trimester increased the risk 16-fold, the investigators reported in the study published online Nov. 8 in the journal Human Reproduction.
It appears that it is becoming more common for males to have undescended testicles, particularly in Denmark, where the incidence has increased from 1.8 percent in 1959-1961 to 8.5 percent in 1997-2001, the study authors noted. The condition is thought to boost the risk of infertility and testicular cancer later in life. However, many males with undescended testicles grow up without these problems, they added.
In support of the findings, a study in rats by researchers from France and Denmark found that painkillers disrupt the endocrine system, changing the way the body produces testosterone.
"If exposure to endocrine disruptors is the mechanism behind the increasing reproductive problems among young men in the Western world, this research suggests that particular attention should be paid to the use of mild analgesics during pregnancy, as this could be a major reason for the problems," research leader Dr. Henrik Leffers, a senior scientist at Rigshospitalet in Copenhagen Denmark, said in the news release.
"Women may want to try to reduce their analgesic use during pregnancy," Leffers added. "However, as biologists this is not something we can advise women about. So we recommend that pregnant women seek advice from their physician before using mild analgesics and in general follow the advice to use as little medicine during pregnancy as possible."
Commenting on the study findings, Dr. De-Kun Li, a senior research scientist at the Kaiser Foundation Research Institute in Oakland, Calif., said women should be cautious about painkillers during pregnancy because their use around conception has been linked to miscarriages. But Li said the new research is "relatively weak" for several reasons.
For one, Li said, the results from the two countries (Finland and Denmark) are inconsistent, and the condition in question — undescended testicles, also known as cryptorchidism — "is a tricky condition to determine."
"Many boys can have undescended testicles at birth and then the condition will disappear [by] 1 year of age," Li said. "Therefore, there is controversy over which cases should be really considered as cryptorchidism. Most studies only included those cases who remained cryptorchidism at age 1. But this study appeared to include all cases at birth. This raised the question whether those are real cases."
More information
For more facts on undescended testicles , visit the Nemours Foundation.
Source: HealthDay
​