Once-A-Year Vitamin D Megadose Ups Fracture Risk: Study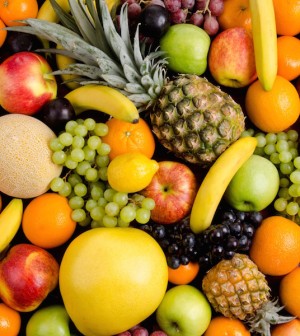 TUESDAY, May 11A large once-a-year dose of vitamin D, while convenient, doesn't offer the same protection against falls and fractures in older women that smaller, more frequent doses may, a new study has found.
What's more, the research suggests that when older women take a high annual dose of vitamin D, it actually increases the risk of falls by 15 percent and the risk of fractures by 26 percent, compared to women taking a placebo.
"Until further evidence to the contrary is obtained, high-dose vitamin D should be avoided, at least in older women who are not vitamin D deficient," said the study's senior author, Geoffrey Nicholson, a professor of medicine and head of the department of clinical and biomedical sciences at the University of Melbourne in Australia.
Both vitamin D and calcium are vital to the production of new bone, according to the U.S. National Institute of Arthritis and Musculoskeletal and Skin Diseases. Vitamin D is found in some foods, and the body naturally produces vitamin D when exposed to sufficient sunlight.
Previous studies have found mixed results on the role of vitamin D supplements in protecting against falls and fractures in older adults. Some studies have reported that taking a daily dose of 700 to 800 international units (IUs) of vitamin D reduces fracture risk by up to 26 percent, according to background information in the study. But other studies have found vitamin D to be ineffective.
This discrepancy has led some researchers to suspect that people in the studies may have inadvertently missed some doses of their daily vitamin D pills, leading the authors of the current study to wonder if a high annual dose would offer the same type of protection against fractures, because it would be much easier to ensure compliance with a once-a-year dose.
The study included 2,256 community-dwelling women who were older than 70 at the start of the study and who were considered to be at high risk of fractures. Women were randomly assigned to receive either an annual dose of 500,000 IUs of vitamin D or a placebo for three to five years. Both the vitamin D and the placebo consisted of 10 tablets to be taken in a single day.
The researchers found that women in the high-dose vitamin D group had 171 fractures, versus 135 fractures in the placebo group. During the study, 837 women taking vitamin D fell 2,892 times compared to 769 women in the placebo group, who fell 2,512 times.
The risk of falling was increased by 31 percent during the first three months after taking the annual dose of vitamin D, according to the study published in the May 12 issue of the Journal of the American Medical Association.
Nicholson said the researchers weren't sure why the women taking vitamin D had a higher risk of falls and fractures.
In an accompanying editorial in the same issue of the journal, experts from Tufts University theorized that this study may have provided "too much of a good thing," and that the body may attempt to lower vitamin D levels when faced with such a high dose. Or, they suggested, it could be that those high levels of vitamin D may have reduced chronic pain levels or improved physical performance in older adults, allowing them to participate in activities that increased their fall and fracture risk.
"Vitamin D is an incredibly important component in the body, and it's so important that I wouldn't even guess why the annual dose caused an increase in falls and fractures," said Dr. Michael Perskin, chief of geriatrics at Tisch Hospital at the NYU Langone Medical Center. "Vitamin D is found a little bit in food and our bodies create more with sun, but those doses are titrated [continually adjusted to balance the body's needs]. There's no reason to think that would translate to once-a-year dosing. Imagine if you ate all of your protein for the year in one day? It wouldn't work out," he explained.
Perskin recommended that people who are concerned about bone health should talk with their physician. The doctor can check your vitamin D levels and let you know what type of supplement you should be taking.
In addition, he said that exercise can help strengthen your bones as can eating a healthy diet.
More information
To learn more about improving your bone health, visit the U.S. National Institute of Arthritis and Musculoskeletal and Skin Diseases Web site.
Source: HealthDay
​