New Drugs, New Combinations Fight Breast Cancer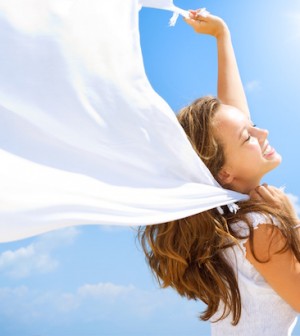 FRIDAY, Dec. 11New therapies and new spins on existing treatments are offering hope for patients with breast cancer, especially those with metastatic disease, according to research being presented this week at the annual San Antonio Breast Cancer Symposium in San Antonio, Texas.
One study found that a higher (500-milligram) dose of Faslodex (fulvestrant) works better than the currently approved 250-milligram dose in hormone receptor-positive breast tumors that had already spread to other parts of the body. There was no difference in the severity of side effects between the two doses, researchers added.
Many breast cancer cells are sensitive to circulating estrogen because they carry receptors on their surface that link up with the hormone, helping malignant cells to spread and grow. Faslodex targets this critical link-up.
"This drug is different from other hormonal agents. It can actually destroy the estrogen receptor," explained study lead author Dr. Angelo Di Leo, director of the department of oncology at the Hospital of Prato in Italy. "Evidence from past clinical trials suggests that if you increase the dose of the drug you can induce a more profound down-regulation of the estrogen receptor."
And, in the new trial, that turned out to be the case.
"It was clear that 500 milligrams was more effective than 250 in prolonging time to disease progression and the median time to progression, which was 6.5 months for those in the 500-milligram group versus 5.5 months in the 250-milligram group," she said.
There was no evidence of tumor shrinkage but there was a hint that survival was also improved, but this was not statistically significant.
Dr. C. Kent Osborne, president of the symposium and moderator of a Friday teleconference detailing these and other findings, and director of the Dan L. Duncan Cancer Center and the Lester and Sue Smith Breast Center at Baylor College of Medicine in Houston, expressed hope that the dosing changes may also help women with early breast cancer.
A second study found that adding Nexavar (sorafenib) — a drug already used to treat liver and kidney cancer — to chemotherapy in advanced breast cancer patients with HER2-negative tumors extended the time to disease progression, another hint of increased survival.
"The drug has multiple targets including some in the angiogenic pathway [the pathway that controls blood flow to the tumor]," explained study lead author Dr. William Gradishar, professor of medicine at the Robert H. Lurie Comprehensive Cancer Center at Northwestern University in Chicago. Gradishar consults to Onyx Pharmaceuticals, which makes Nexavar, as does Osborne.
The median time to disease progression was 8.1 months for those taking the combination therapy versus 5.6 months for those in the control group.
One troubling trend did emerge, however: a larger number of deaths in participants from India who took Nexavar plus chemo. "At first blush, that's troubling but when we looked closer we identified that the patients were dying from adverse events not related to the study, things we don't typically see in the West, such as malaria and meningitis," Gradishar said.
Osborne stated he does not think that oncologists will start using Nexavar off-label to treat breast cancer.
A third study gives added credibility to the stem cell theory of cancer that is currently gaining prominence in the medical community.
The hypothesis holds that tumors are propelled forward by a small group of stem cells or "mother" cells that are resistant to existing therapies, explained Dr. Jenny Chang, lead author of this study and professor of medicine at Baylor College of Medicine in Houston.
In fact, studies have suggested that chemotherapy can actually increase the number of these stem cells, Chang said.
Investigating further, Chang said she and her colleagues "isolated these cells and found that the [molecular] pathway that regulated cancer stem cells was the 'Notch' pathway."
So called gamma-secretase inhibitor drugs, which activate the Notch pathway, succeeded in rendering cancer stem cells vulnerable to chemotherapy in an animal model.
And in one human patient, the drug managed to shrink a tumor in a woman who had failed all attempts at chemotherapy.
"She is now about to go for surgery," Chang reported. "Previously, a patient like this is inoperable."
A final study found that treating estrogen receptor-positive breast cancer tumors with a combination of an experimental drug called fidarestat and Femara (the aromatase inhibitor letrozole) either delayed or eliminated tumors that had developed a resistance to hormone therapy.
Researchers at the University of Texas Health Science Center, San Antonio, found that fidarestat affects cellular metabolism of glucose, which provides energy for cells, sustaining tumor growth.
More information
There's more on breast cancer at the U.S. National Cancer Institute.
Source: HealthDay
​