Mammograms May Boost Cancer Risk in High-Risk Women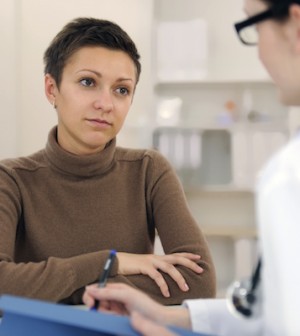 TUESDAY, Dec. 1Mammograms may actually boost the risk of breast cancer in some high-risk women, a new study suggests.
Dutch researchers analyzed six previously published studies, four examining the effect of low-dose radiation exposure from mammography among women with the genetic mutation boosting breast cancer risk and two looking at the effect of radiation from screening in women with a family history of breast cancer.
"Women who were exposed before the age of 20 had a 2.5 times increased risk of breast cancer," said Martine Jansen-van der Weide, an epidemiologist and researcher at the University Medical Center Groningen, in the Netherlands. So did women with five or more exposures.
She was to present the findings Monday at the Radiological Society of North America's annual meeting in Chicago.
No information was available from the studies about the time period, said Jansen-van der Weide. The studies did control for different factors that affect breast cancer risk, such as age, breast-feeding and age at first menstruation.
These new findings come in the wake of a controversial recommendation made in mid-November by the U.S. Preventive Services Task Force for the general public, that women delay routine screening mammograms from age 40 to 50, asking their doctor the best time to begin, and that older women switch to every-other-year mammograms.
Currently, the American Cancer Society and other organizations advise yearly mammograms for women beginning at age 40. For high-risk women, the ACS recommends a mammogram and MRI every year.
Overall, the Dutch researchers also found, the average risk of breast cancer from radiation exposure was 1.5 times greater among the high-risk women studied than the high-risk women not exposed.
The study is important, as it provides the "first direct piece of evidence on whether high-risk women have an increased risk due to radiation exposure," said Edward Hendrick, a member of the American College of Radiology Commission, a medical physicist and clinical professor at the University of Colorado at Denver.
In the United States, women under 30 don't routinely get mammograms, however, he said. It's known that young women are more radiation-sensitive.
Young women who are deemed high-risk can, if they choose, turn to an MRI breast exam instead, he said. MRIs use magnetic or radio waves, not radiation.
"Screening is very important," Jansen-van der Weide said. "However, for young, high-risk women, a careful approach is advised when considering mammography for screening."
More information
To learn more about guidelines for early detection of cancer, visit the American Cancer Society.
Source: HealthDay
​