Health Experts Say HPV Vaccine Is Safe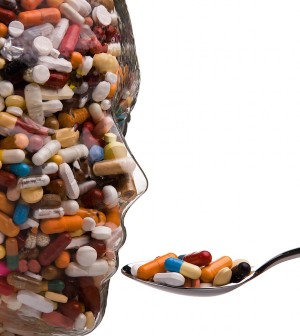 WEDNESDAY, Sept. 14U.S. health experts say the controversy triggered by Monday's Republican presidential debate over the human papillomavirus vaccine for pre-teen girls is generating misinformation about the shots' value.
During the debate, Rep. Michele Bachmann of Minnesota criticized Texas Gov. Rick Perry for mandating that sixth-grade girls in his state get the HPV vaccine to prevent cervical cancer later in life. On television the next day, Bachmann, who had argued that the order violated individual rights, also said she had heard from a mother she met that the vaccine had caused mental retardation in the woman's 12-year-old daughter.
That's unlikely, experts said.
"This is a very safe vaccine," said infectious disease expert Dr. Marc Siegel, an associate professor of medicine at New York University. "The benefit of this vaccine so outweighs any rare risk that it's not worth considering side effects.
"What is going on right now," added Siegel, "is a political backlash against the whole idea of vaccines. You are seeing vicious rumors circulating because of the debate."
The American Academy of Pediatrics also tried to squelch concerns over the vaccine's safety.
"There is absolutely no scientific validity to this statement. Since the vaccine has been introduced, more than 35 million doses have been administered, and it has an excellent safety record," Dr. O. Marion Burton, academy president, said in a news release.
Dr. Judy Schaechter, an associate professor of pediatrics at the University of Miami Miller School of Medicine, said, "We have not seen any cases of mental retardation caused by this vaccine and there is no reason to suspect that that would happen.
"For mental retardation to start in any 12-year-old is an odd occurrence," she said. "I don't have an explanation for that — I've never seen it as an adolescent medicine doctor. There is nothing in science or experience that would back that up."
Perry signed an executive order in 2007 requiring that all sixth-grade girls be vaccinated to protect them from the sexually transmitted virus, but the state legislature subsequently rescinded the order.
The HPV vaccine, approved in 2006, targets two types of HPV that cause 70 percent of cervical cancers and most HPV-induced genital and head and neck cancers. It also protects against most genital warts.
The U.S. Centers for Disease Control and Prevention recommends that girls at age 11 or 12 get three doses (shots) of the HPV vaccine, also often called the Gardasil vaccine, and that girls and young women 13 to 26 years old get all three doses if they have not already.
"The best way to be sure that a person gets the most benefit from HPV vaccination is to complete all three doses before sexual activity begins," the CDC said.
Each year in the United States, about 6.2 million new cases of human papillomavirus are diagnosed, and about 4,000 women die from cervical cancer, according to the CDC.
Side effects of the vaccine tend to be minor, the CDC said. They include pain at the injection site, headache, nausea, and fever. Fainting has been reported on rare occasions.
Some cases of Guillain-Barre Syndrome (GBS), a rare disorder that causes muscle weakness, have been reported after vaccination, but "there is no evidence that Gardasil has increased the rate of GBS above that expected in the population," the CDC said.
Blood clots in the heart, lungs and legs also have been reported, but "most of these people had a risk of getting blood clots, such as taking oral contraceptives," according to the CDC.
After reviewing 56 deaths that followed vaccination, the CDC said it could not find a pattern suggesting the vaccine was responsible. Autopsy and death records pointed to other factors, including illicit drug use, diabetes, viral illness and heart failure, the agency said.
Others, however, remain unconvinced of the vaccine's safety.
Barbara Loe Fisher, co-founder and president of the National Vaccine Information Center, an anti-vaccine group, said that the HPV vaccine "can cause brain and immune system dysfunction that takes various forms, including memory loss and inflammation of the brain."
But Fisher said that assessment was based on anecdotal evidence. "I don't know how common it is," she said.
Her website reports six cases of adverse reactions to the vaccine, none of which include mental retardation. But, "to suggest that it does not happen is inaccurate," she said.
Siegel does not disagree that brain inflammation can occur, but he said it is rare. "Encephalitis (swelling of the brain) is a remote and rare side effect of many vaccines, including the flu vaccine," he said. "It is more common in live virus vaccines, which HPV is not."
A recent Institute of Medicine report, sponsored by the Department of Health and Human Services, also said severe reactions were rare.
In the United States, two HPV vaccines are available, Cervarix, made by GlaxoSmithKline, and Gardasil, made by Merck & Co.
More information
For more information on HPV vaccine, visit the U.S. Centers for Disease Control and Prevention.
Source: HealthDay
​