Analysis Examines Ultrasound Use for Blood Clots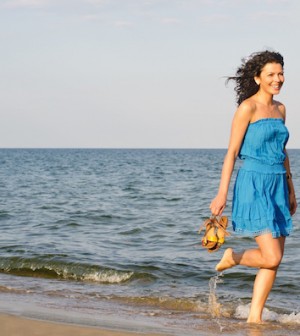 TUESDAY, Feb. 2It's unusual for a paper in a medical journal to be accompanied by an editorial saying that the conclusion reported in the paper might be "overly simple and consequently not clinically useful."
However, that is exactly what has happened in the Feb. 3 issue of the Journal of the American Medical Association.
The paper in question, from researchers at the University of Utah, asks whether a single ultrasound exam might be enough to determine whether someone has a dangerous blood clot in a deep vein of a leg below the knee. The paper averaged the results of seven studies that included 4,731 cases, and concluded that the usual practice of doing repeat ultrasounds looking for such a deep vein thrombosis (DVT) isn't necessary.
The average risk of having a DVT in all the studies over the next three months was about one in 200, or 0.57 percent, such a low rate that the routine procedure of multiple ultrasound scans "requires further study," the report concluded, a polite way of saying that it isn't necessary.
But an accompanying editorial penned by two doctors who are consulting editors to the journal details serious doubts about that conclusion.
The reason for doubt, said editorial co-author Dr. Edward H. Livingston, who is chairman of gastrointestinal and endocrine surgery at the University of Texas Southwestern Medical Center in Dallas, is that the usual practice of lumping all the results of several studies together in a meta-analysis, and reasoning from the resulting average, doesn't work in this particular report.
One of the seven studies, which contributed nearly 25 percent of the total cases, included only ambulatory patients — people who came to a doctor's office complaining of leg pain, Livingston said. That study, which found a thrombosis incidence of just 0.48 percent, pulled the overall results of the meta-analysis too far in one direction, he said.
Another study of 513 hospitalized people who had ultrasound exams for DVT found an incidence of 1.95 percent, the editorial noted. That four-times-higher incidence shows that the same criteria cannot be applied to both hospitalized and ambulatory patients, Livingston said.
The journal editors did a lot of talking before deciding that the paper should be run, he said. "We did a lot of analysis, looked at a lot of the literature," Livingston said. "Based on what I read, if you are ambulatory and have a low probability, with some leg pain, maybe a single ultrasound is good enough. The probability of having a DVT is low, and the test backs up your clinical suspicion. But a post-surgical or cancer patient who has a swollen leg, you would probably treat and look again, because the level of suspicion is high."
Treatment involves clot-preventing drugs, which carry their own danger of excess bleeding. The risk of such bleeding might be worth taking for someone in a hospital bed but not for an otherwise healthy person, Livingston said.
Beyond that, the lesson of the paper can be applied to all meta-analyses that lump together the results of different trials, he said. "It is a good platform to advise caution in judging all meta-analyses," Livingston said.
Averages derived by lumping many studies together can be deceptive, added editorial co-author Dr. Robert A. McNutt, a professor of medicine and chief of the section of patient safety research at Rush University Medical Center in Chicago.
"I prefer as a clinician to see the range of values across the studies rather than the average value of all the studies," McNutt said. "As a clinician, I look at the variability of patients, not the average value across the meta-analysis."
Controlled studies provide valuable evidence for medical practice, "but evidence-based medicine is not about the average patient but the nuances that clinicians have to deal with when managing individual patients," he said.
Attempts by HealthDay to reach the study authors for comment were unsuccessful.
More information
Learn about deep vein thrombosis from the U.S. National Heart, Lung, and Blood Institute.
Source: HealthDay
​