A New Way to Zap Away Uterine Fibroids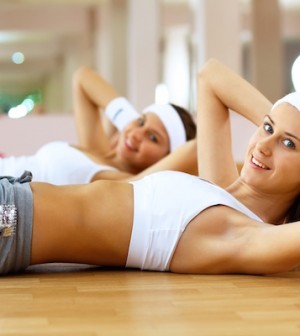 TUESDAY, March 16Focused ultrasound is an effective way to get rid of uterine fibroids, the noncancerous but troublesome tumors that can grow inside the uterus, new research shows.
Uterine fibroids are a common condition that can lead to a host of problems, including prolonged, heavy menstrual bleeding that can be severe enough to cause anemia or require blood transfusion; severe pelvic pain and pressure; urinary frequency; pain during intercourse; problems with becoming pregnant, miscarriage and complications during pregnancy.
About 20 percent to 40 percent of women aged 35 and older have uterine fibroids. The problem is even more common among black women, about half of whom have fibroids, according to background information in the study.
There are several treatment options for fibroids, ranging from taking birth control pills to getting a hysterectomy. More recently, other techniques have been developed, including myomectomy, in which doctors surgically remove the fibroids, and uterine fibroid embolization (UFE), also called uterine artery embolization, which starves fibroids by blocking their blood supply using particles inserted into the uterus using a tube threaded through an artery in the groin.
The most recently developed — and least invasive technique — is focused ultrasound, in which interventional radiologists guided by MRI zap fibroids using tightly focused ultrasound.
In the study, researchers from the Mayo Clinic treated 119 women with focused ultrasound. One year after the treatment, 74 percent of women said their improvement of symptoms was "excellent," while 16 percent said the improvement was "considerable."
About 8 percent of women needed to have another form of fibroid treatment within a year, said study author Dr. Gina Hesley, an assistant professor of interventional radiology at the Mayo Clinic in Rochester, Minn.
That's about the same percentage of women that previous studies have shown need to be re-treated after myomectomy or UFE, Hesley said.
"Focused ultrasound is another viable alternative treatment option for women who have uterine fibroids," Hesley said.
The study is to be presented Monday at the Society of Interventional Radiology's annual meeting in Tampa, Fla.
Researchers plan to continue following the women who received focused ultrasound. If fibroids aren't completely destroyed, they can grow back and cause problems again. In addition, new ones can form.
Focused ultrasound was approved by the U.S. Food and Drug Administration for treating uterine fibroids in October 2004. However, the technique is only available in a limited number of hospitals nationwide, and not all insurance companies cover it, Hesley said.
Benefits of the technique are that it is minimally invasive, recovery time is quick — women can often return to their normal activities the next day — and it's not painful. The most women usually feel is warmth from the ultrasound, Hesley noted.
Drawbacks of the technique are that it takes several hours, during which women lay on their belly in an MRI while lightly sedated.
Dr. John Lipman, director of interventional radiology and the Center for Image-Guided Medicine at Emory-Adventist Hospital in Atlanta, called the technique promising, but noted that it's not for every woman and does not replace the techniques currently in use.
"It's very exciting and innovative, but there are some limitations," said Lipman, who offers focused ultrasound at his hospital. "It's important to keep in mind this treatment can only address a small fraction of the symptomatic fibroid population."
Because it takes two to three hours to zap each fibroid, it's not practical to offer the technique to women who have a uterus full of larger fibroids.
Focused ultrasound can only penetrate a limited distance beneath the skin, so the location of the fibroids, the anatomy of the uterus, as well as excess weight, can make ultrasound not the best option.
One group of women who may be particularly helped by focused ultrasound is those who are having trouble getting pregnant because of fibroids, Lipman said. Myomectomy, which involves cutting into the uterus, can damage it, further compromising fertility, and there's a small risk of a woman needing a hysterectomy afterward. These complications aren't an issue with focused ultrasound.
Concerns about altering or damaging the uterus in some way also led many doctors to steer women who wanted to become pregnant away from UFE, Hesley added.
But a second study to be presented at the same meeting found that women who had it done were just as likely to conceive as those who underwent myomectomy.
Of the women who had UFE, 58 percent got pregnant, compared to 57 percent of those getting myomectomy, according to a study by researchers at St. Louis Hospital in Lisbon, Portugal.
More information
The American Congress of Obstetricians and Gynecologists has more on fibroids.
Source: HealthDay
​