Sleep Apnea May Shrink Brain's Gray Matter: Study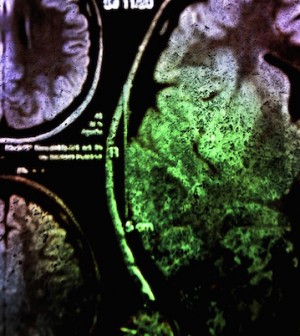 FRIDAY, Nov. 12Obstructive sleep apnea may cause structural defects in the brain's gray matter, resulting in problems with cognitive functions such as attention and memory, a new study suggests.
These brain changes are likely caused by the intermittent oxygen deprivation that occurs in people with obstructive sleep apnea (OSA), who temporarily stop breathing many times each night.
A small Italian study of 17 patients with OSA and 15 age-matched controls found reduced gray matter in the OSA group in several key regions of the brain connected with abstract reasoning and executive function, along with deficits in the left cortex, which were shown to be linked to daytime sleepiness.
The participants in the OSA group also had impaired memory, attention, executive function, and constructional abilities, as well as higher sleepiness scores.
However, the brain changes are partially or fully reversible with early detection and treatment with continuous positive airway pressure (CPAP), said the Italian researchers.
The findings appear online and in an upcoming print issue of the American Journal of Respiratory and Critical Care Medicine.
"This study provides the first evidence that structural brain abnormalities exist in regions susceptible to hypoxemia [low oxygen levels in the blood], and they can change with treatment," Vincenza Castronovo, a clinical psychologist at the Sleep Disorders Center, Vita-Salute San Raffaele University and San Raffaele Scientific Institute in Milan, said in a journal news release.
More information
The U.S. National Institute of Neurological Disorders and Stroke has more about sleep apnea.
Source: HealthDay
​