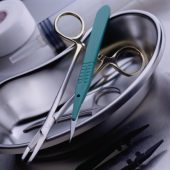 TUESDAY, March 25, 2014 (HealthDay News) — Wearing special video glasses while undergoing certain types of outpatient procedures may help reduce patients' anxiety, a new study suggests.
"Whether they were watching a children's movie or a nature show, patients wearing video glasses were successful at tuning out their surroundings," said lead author Dr. David Waldman, chair of the department of imaging sciences at the University of Rochester Medical Center in Rochester, N.Y.
"It's an effective distraction technique that helps focus the individual's attention away from the treatment," he added.
The study included 33 men and 16 women, ages 18 to 87. They either underwent a biopsy — removal of tissue for examination — or placement of a catheter in the arm or chest to receive medication to treat cancer or infection.
About half of the patients wore video glasses and watched TV shows or movies during their procedure.
The patients who used the video glasses were 18 percent less anxious after the procedure than they were before. Those who did not have video glasses were only about 8 percent less anxious after the procedure, the findings showed.
The video glasses didn't bother the doctors or the patients, and had no significant effect on blood pressure, heart rate, respiratory rate, pain, procedure time, or amount of sedation or pain medication, the researchers found.
The study was scheduled for presentation Monday at the Society of Interventional Radiology's annual meeting in San Diego.
Other drug-free methods of reducing patients' anxiety — such as listening to music or hypnosis — have been assessed but provided slight benefits at best, according to the researchers.
"Patients told us the video glasses really helped calm them down and took their mind off the treatment, and we now offer video glasses to help distract patients from medical treatments going on mere inches away," Waldman said in a society news release. "It is really comforting for patients, especially the ones who tend to be more nervous," he explained.
Research presented at medical meetings is considered preliminary until published in a peer-reviewed journal.
More information
The U.S. National Institutes of Health has more about biopsy.