Post-Combat Stress Disrupting Daily Lives of Returning Vets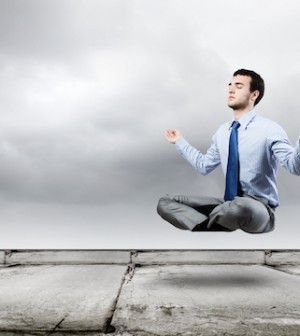 MONDAY, June 7Up to 14 percent of soldiers returning from Iraq suffer post-traumatic stress disorder (PTSD) or depression that is severe enough to disrupt their daily lives, new research shows.
Overall, between 8.5 percent and 14 percent of soldiers reported mental health issues that caused difficulties in work or private life, said Major Jeffrey L. Thomas, chief of the department of military psychiatry at the Walter Reed Army Institute of Research and lead author of a report in the June issue of the Archives of General Psychiatry.
Interestingly, surveys of self-reported depression and PTSD among 18,305 Iraq veterans in four regular army units and two National Guard infantry brigade combat teams found a significant difference between National Guardsmen and those on active duty, Thomas noted.
A first survey, taken three months after returning from Iraq, found almost equal rates of mental health problems among Guardsmen and regular Army soldiers. A second survey, done at 12 months, found unchanged rates among the regulars but a sharp increase among the Guardsmen.
"That's the one that surprised our team the most," Thomas said. "We don't know why, but we have some speculations."
When they come home, the Guardsmen have the stress of going back to whatever job they left, Thomas explained. "They have less contact with the peers they were activated with," he said. "Also, they don't have continual medical care. They have benefits for six months, then can buy into a government care program or get care on their own."
And in a sense, the regular Army soldiers didn't have the time to succumb to PTSD and depression, Thomas said. They knew they would be rotated back into Iraq within 12 months, which probably led to suppression of symptoms, he said.
PTSD is a set of psychological symptoms that can include nightmares, flashbacks to scenes of combat, surges in heart rate and periods of heavy sweating, alcohol misuse and aggressive behavior as minor as punching a wall or as great as a threat of committing physical violence.
The study graded the degree of psychological problems reported by individual soldiers. The least stringent definition, which included minor upsets, produced an incidence rate of PTSD ranging from 20.7 percent to 30.5 percent, and depression rates between 11.5 percent and 16 percent.
The strictest definition, with high incidence rates and serious impairment of normal functioning, found a PTSD rate of between 5.6 percent and 11.3 percent, with depression ranging from 5 to 8.5 percent.
That rating scale will help doctors determine when intervention is necessary, Thomas said. "It is a risk stratification system that clinicians can use," he said.
About 50 percent of those with strictly defined depression or PTSD also admitted to alcohol misuse or physical aggression.
The findings suggests a need for improved post-deployment screening, the researchers said.
Another study reported in the same issue of the journal found a higher incidence of dementia, such as Alzheimer's disease, in older veterans with PTSD.
Using a Veterans Affairs data base, the study of 181,000 veterans aged 55 and older found that 10.6 percent of those with PTSD developed dementia during a seven-year follow-up period, compared to 6.6 percent of those without PTSD.
That increased incidence was found even after adjusting for the presence of other problems, such as drug abuse, said Dr. Kristine Yaffe, a professor of psychiatry, neurology and epidemiology at the University of California, San Francisco, and chief of geriatric psychiatry at the San Francisco Veterans Affairs Medical Center.
"I can't say with 100 percent certainty that PTSD leads to a greater likelihood of dementia, but in our study it was not possible to explain away the relationship after fairly rigorous analysis," Yaffe said.
She offered two possible mechanisms for the relationship: PTSD could affect the brain's stress hormone pathways, possibly causing damage to the hippocampus, a brain area important for learning and memory; or genetic factors might increase the risk of developing both PTSD and dementia.
More information
To learn about PTSD and its treatment, visit the U.S. National Institute of Mental Health.
Source: HealthDay
​