A Woman's Touch Encourages Financial Risk-Taking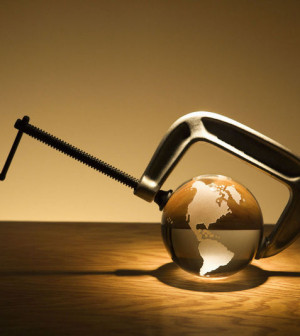 FRIDAY, May 14If you're about to make a big financial purchase, keep your distance from the friendly and helpful saleswoman.
A series of experiments by researchers from Columbia University and University of Alberta found both men and women were more likely to take financial risks after being lightly touched on the back by a woman, new research shows.
The same contact with a man did not result in more risk-taking.
Researchers say being touched by a woman may remind participants of their mother's touch during infancy, making them feel more secure and confident in taking chances.
"Certain forms of contact are associated with memories and emotional experiences of being touched by your mom," explained study author Jonathan Levav, an associate professor of business at Columbia University in New York City. "We wanted to find out how that played out among adults. What we found for financial risk-taking is a touch by a man doesn't have much influence, but a woman's touch does."
The study was recently published online in the journal Psychological Science.
In the first experiment, participants were ushered into a room with either a light, one-second touch on back of shoulder from a female, or simply asked to take a seat without any touching. Participants then had to answer 14 questions that involved decisions about money with varying levels of risk. For example, students were asked to choose between receiving $600 for sure, or flipping a coin and having a 50-50 chance of receiving $2,000.
Both male and female participants who'd been touched were significantly more likely to gamble on the bigger payout.
In a second experiment, college business students were either touched by a male or a female, shook hands with a male or female, or were not touched. Students were then asked to choose between investing $5 (which represented $500) in some combination of riskier bank stocks or in safer bonds that delivered a 4 percent return.
Those who'd been touched on the back by a woman put more of their money in stocks. Those who shook hands with a woman also showed a slight increase in their risk-taking. Neither shaking hands with or being touched by a man had any effect.
"People find even a woman's handshake slightly comforting," Levav said.
In the third experiment, participants were asked to write an essay about a time they felt "secure and supported" or "insecure and alone." Recalling these events "primed" participants to feel a certain way.
Researchers then repeated the touch vs. not touching situations prior to making investment choices.
Those who wrote about feeling insecure and were not touched were especially conservative in their investment choices. Those who wrote an essay about feeling insecure but were then touched by a woman were more likely to take financial risks — about the same as those who started off feeling secure, according to the study.
Many previous studies have demonstrated that maternal contact is key to the development of children, Levav said, and that's true not just for human babies, but for many species, even spiders.
One study found that baby spiders who'd spent more time with their mothers were more likely to explore the far reaches of their maze, Levav noted.
"Maternal physical contact serves to promote attachment with the infant, which promotes feelings of security, which gives the infant inner strength to explore new uncertain things," Levav said.
The study also suggests that decisions that appear to be driven by rational processes can be influenced by more subjective, emotional and subconscious factors, Levav said. In his experiments, most participants could not remember having being touched.
The experiments are "fascinating," said R. Chris Farley, an associate professor of psychology at University of Illinois at Urbana-Champaign. Though there are other possible explanations for why participants touched by a woman were more likely to takes risks — perhaps some perceived the contact as romantic interest — this is unlikely because both men and women responded similarly.
Further studies might look at whether or not people's relationships with their mothers or fathers might have any impact on how strongly people reacted to the touch, he added.
More information
The Nemours Foundation has more on child development.
Source: HealthDay
​