U.S. Aims to Make School Lunches Healthier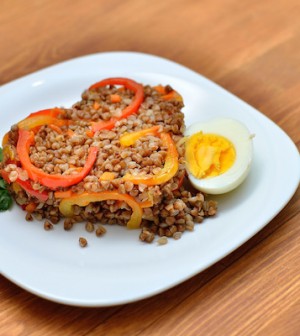 THURSDAY, Jan. 13Trying to fight the growing child obesity epidemic, new federal guidelines proposed Thursday focus on making school lunches healthier.
The new guidelines, from the U.S. Department of Agriculture (USDA), would be the first such changes in 15 years and include cutting salt and fat and adding more fruits and vegetables to school cafeteria fare.
"For the first time in a generation we are proposing significant improvements to the nutritional quality of the meals served to children across America," USDA Secretary Tom Vilsack told reporters during a Thursday press conference.
He noted that about one-third of schoolchildren are obese. "These children will consume a third to a half of their calories in school and we can have a positive impact in improving the nutritional quality of school meals," Vilsack said.
One nutrition expert agreed.
"Having healthier fare in the schools is a critical step in giving children the education and experience of healthy foods and reducing the risk of many chronic diseases and obesity," said Samantha Heller, a dietitian, nutritionist, exercise physiologist and clinical nutrition coordinator at the Center for Cancer Care at Griffin Hospital in Derby, Conn.
The new guidelines also call for more whole grains and the use of low- or nonfat milk. They would also limit the amount of starch to one cup of starchy vegetables a week, so french fries wouldn't be on the menu every day, according to the Associated Press.
The nation may have a financial incentive to boosting the health of school meals, too. "If we do not get our hands around the obesity epidemic, by 2018 we will face nearly $344 billion of additional health care costs — that's more than 21 percent of our current health care spending," Vilsack said.
According to 2008 statistics from the U.S. Centers for Disease Control and Prevention, nearly 17 percent of children and adolescents 2 to 19 years old are obese.
The new school meal guidelines, which could affect more than 32 million children, are based on recommendations from a 2009 report from the Institute of Medicine, a branch of the National Academy of Sciences.
The change in guidelines comes just weeks after President Barack Obama signed the child nutrition bill, which will help schools pay for the healthier foods, which can be more expensive.
Meals that would fall under the new guidelines are currently provided free or at low cost to low-income children and are already subject to government nutrition standards. Under the new law, nutrition standards will be extended, for the first time, to foods sold in schools that aren't government-subsidized. These include "a la carte" foods on the lunch line and snacks sold in vending machines, the AP reported.
At this point, the guidelines remain a proposal, and it could take several years before schools are required to make changes, the news service said.
Under the proposed new guidelines:
School meals would have calorie limits.
Salt would be cut by half over 10 years.
Most trans fats would be banned.
More fruits and vegetables would be included in each meal.
Only low-fat or nonfat milk would be served.
Meals would see increases in the amount of whole grains and eventually will include only whole grains.
Breakfast would include both grain and protein, not one or the other.
"These are the kinds of sensible changes in school nutrition that are welcome," said Dr. David L. Katz, director of the Prevention Research Center at Yale University School of Medicine. "I suspect, however, there will be some opposition from those who see here an attempt by government to 'dictate' the food choices of kids," he added.
Katz said he doesn't buy that argument. "Kids are a captive audience in schools, and so whatever foods are made available will influence the selections they make. In an age of epidemic childhood obesity and rampant type 2 diabetes, along with a long list of other potentially diet-related pediatric ills, how could we possibly countenance influencing choices in the direction of lower nutrition standards and greater health risk?" he said.
Heller agreed that the proposed changes are necessary.
"This will be a process, but the sooner we get our children on the road to healthy lifestyle behaviors, the better," Heller said. "Now we have to figure out ways to encourage parents to offer healthy choices at home."
More information
The U.S. Department of Agriculture has more on healthy diets.
Source: HealthDay
​