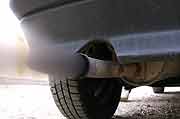 THURSDAY, March 27, 2014 (HealthDay News) — High levels of traffic-related air pollution greatly increase white children's risk of being readmitted to the hospital due to asthma, a new study finds.
Researchers looked at 758 children, aged 1 to 16, who were admitted to Cincinnati Children's Hospital Medical Center for asthma or wheezing. About one-third of the kids were white and nearly two-thirds were black. Within a year after being released from the hospital, 19 percent of the children were readmitted for asthma, the investigators found.
White children exposed to high levels of air pollution caused by traffic were three times more likely to be readmitted than those with low levels of exposure, the study authors noted. However, traffic air pollution levels did not affect the risk of readmission among black children, according to the study published in the current issue of the Journal of Pediatrics.
"Although black children in our study had a higher rate of asthma readmission overall, [traffic-related air pollution] exposure was not a discernible factor for these children," lead author and pediatrician Dr. Nicholas Newman, said in a Cincinnati Children's news release.
"This suggests that other factors, such as social stress or other environmental factors, may be particularly relevant in this population," Newman added.
"For example, caregivers of black children reported significantly higher rates of psychological distress and were more likely to live in poorer housing conditions, with visible cockroaches or holes or cracks in the walls," he explained. Such factors may have a bigger impact on black children than traffic-related air pollution does, Newman suggested.
Asthma affects about 7.1 million children in the United States and is the most common chronic childhood disease.
According to the study's senior author, Dr. Robert Kahn, the study "adds to the evidence that [traffic-related air pollution] exposure worsens the health of children with asthma."
Kahn, the associate director of general and community pediatrics at Cincinnati Children's, said: "We hope that this study can inform public policy. It may also suggest ways to personalize patient care based on environmental risks."
More information
The American Academy of Pediatrics has more about childhood asthma.