Kids of Moms With History of Depression Seem Less Happy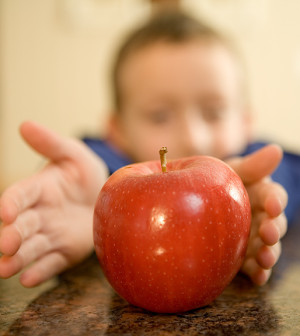 FRIDAY, July 15Children who show fewer than normal signs of affection or happiness, such as smiles, laughter or hugs, might be at risk for depression, a new study suggests.
Although greater-than-normal crying and negative emotions in children can be a red flag for depression, too few demonstrations of happiness and affection could mean that children are not able to cope with bad moods well, making them more vulnerable to depressive disorders, according to researchers from the University of Michigan and the University of Pittsburgh.
"Surprisingly, it seems that it is low levels of happiness, as opposed to high levels of sadness, that may help explain why these kids too often develop depressive disorders," study co-author Nestor Lopez-Duran, an assistant professor of psychology at U-M, said in a university news release.
In conducting the study, published in the current issue of Journal of Child Psychology and Psychiatry, researchers followed 140 mothers and 202 children, ranging in age from late infancy to 9 years. The children were divided into two groups: those whose mothers had a history of depression and those whose mothers did not. Then all the children were given tasks to provoke positive and negative emotions.
The researchers found that although children whose mothers had a history of depression had the same amount of negative emotions as other kids their age, they had fewer displays of positive or happy emotions.
The study authors noted that because the children's mothers had a history of depression, the youngsters were already at greater risk for the condition. They concluded however, the lack of positive emotions is another warning sign for depression that should be recognized.
Parents or guardians should not ignore children's sadness or frustration, advised Lopez-Duran. Children who are unable to experience happiness during their playtime or other activities may be at risk for depression and should be evaluated by a health professional, he added.
Other symptoms that may signal depression in children include:
Trouble sleeping
Lack of appetite
Sadness
Inability to concentrate
Irritability
More information
The American Academy of Pediatrics provides more information on childhood depression.
Source: HealthDay
​