Infants' Sensitivity to Voices May Develop by 7 Months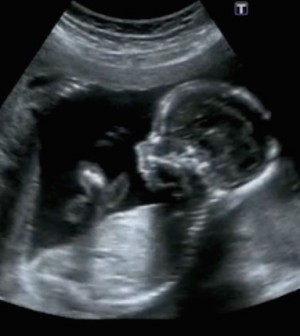 SATURDAY, March 27The brains of infants as young as 7 months show a sensitivity to the human voice that's similar to what's seen in adult brains, a new study finds.
The research may one day help improve understanding of autism and other neurodevelopmental disorders.
British and German researchers used near-infrared spectroscopy to determine when certain regions in the brain's temporal cortex become sensitive to the human voice. In adults, these regions play an important role in processing spoken language.
Adult-like responses to human voices were seen in the brains of 7-month-old infants, but not in 4-month-olds. This suggests that voice sensitivity develops between 4 months and 7 months of age.
The researchers also found that emotional tones of voice resulted in increased activity in the right temporal cortex of 7-month-old infants.
The study is published in the March 25 issue of Neuron.
"Our findings demonstrate that voice-sensitive brain regions are already specialized and modulated by emotional information by the age of 7 months, and raise the possibility that the critical neurodevelopmental processes underlying impaired voice-processing reported in disorders like autism might occur before 7 months," said study leader Dr. Tobias Grossmann, of the Centre for Brain and Cognitive Development at the University of London.
"Therefore, in future work the current approach could be used to assess individual differences in infants' responses to voices and emotional prosody and might thus serve as one of the potentially multiple markers that can help with an early identification of infants at risk for a neurodevelopmental disorder," he said.
More information
The U.S. National Institute on Deafness and Other Communication Disorders outlines speech and language developmental milestones.
Source: HealthDay
​