Dealing With Those All-Too-Public Tantrums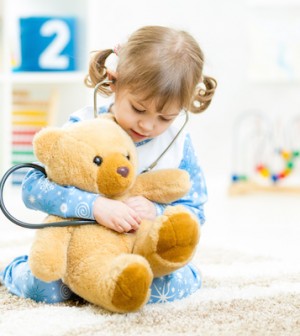 SUNDAY, April 4Waaaaaaah! Now what?
Parents often have a hard time figuring out what to do when their children decide to throw tantrums. It doesn't help matters that kids often have their meltdowns in public places — the supermarket, the mall, the family restaurant.
Chuck Smith, a Kansas State University child development expert, has compiled tips to help parents deal with out-of-control youngsters. Here's his advice:
Set rules and enforce them. "Many parents are concerned with the glare of onlookers, so they'll let their kids get away with things because of the threat," Smith said in a news release. "You can't let a child leverage your own sense of embarrassment in public to get what he or she wants. It's not that you ignore the public, but you have to decide where your real priority is — and that is with teaching your child. You can't ever lose focus on that."
Make sure your rules are age-appropriate. A 5-year-old may have a hard time keeping quiet in church, so expecting her to do so may be unreasonable. But that same child should be able to keep her food in her mouth when you go out to eat.
Make sure you only discipline kids for breaking rules that they know about. Gently remind them by asking whether they remember what they're supposed to do. "Then, when they look at you in a confused manner, you firmly remind them of the rule," Smith said. "You don't ever punish a child for something they didn't know they weren't supposed to do."
It's OK to ignore some types of behavior, such as pleading for a toy at the department store. "Any response to whining or crying, even punishment, shows that a child is in control and is pulling a parent's strings," Smith said. "The parent should rise above this noise and remain steadfast to the limit they set. You have to be smarter than the kid and realize that you are not going to be drawn into this. If you give in, you're going to have lots of temper tantrums before they realize it doesn't work."
More information
The U.S. National Library of Medicine has more advice on disciplining kids.
Source: HealthDay
​