College Students Missing Out on Fruits, Veggies: Survey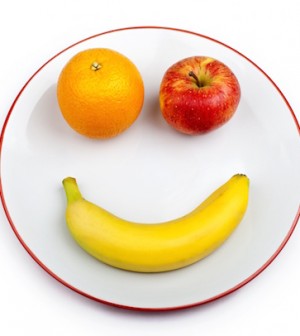 WEDNESDAY, Aug. 24American college students aren't eating anywhere near the recommended five daily servings of fruits and vegetables, a new study finds.
In fact, they aren't even eating one serving per day, according to an Oregon State University survey of 582 college students.
Males ate about five servings of fruit and vegetables per week while females consumed only four servings per week. Males had more fat in their diet than college women, but females had lower fiber intake.
Overall, females had better eating habits than males, including reading food labels, skipping fewer meals, and eating in college dining halls more frequently, the results showed.
"We found that students skipped meals fairly frequently, which could account for some of the lack of fruits and veggies," Brad Cardinal, a professor of exercise and sport science at Oregon State University, said in a university news release.
"Still, even accounting for fewer meals consumed, the students were on average not always eating even one serving of fruits or vegetables per day, far below USDA [U.S. Department of Agriculture] guidelines," he added.
The study was released online in advance of publication in an upcoming print issue of the Journal of Nutrition Education and Behavior.
"We are not teaching youth how to be self-sustaining," Cardinal said. "Home economics and nutrition classes have all but disappeared from our schools in the K-12 system. There is a fundamental lack of understanding on how to eat well in a very broad sense."
More information
The U.S. Centers for Disease Control and Prevention outlines the health benefits of fruits and vegetables.
Source: HealthDay
​