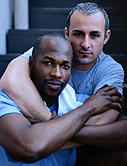 WEDNESDAY, Nov. 27, 2013 (HealthDay News) — The number of gay and bisexual men in the United States who said they had unprotected anal sex at least once in the past year jumped from 48 percent in 2005 to 57 percent in 2011, a new study finds.
The researchers, from the U.S. Centers for Disease Control and Prevention, said this increase is cause for concern due to the high risk of being infected with HIV while having unprotected anal sex.
HIV is the virus that causes AIDS. Gay and bisexual men account for almost two-thirds of new infections, as well as half of all people in the United States who are currently living with HIV, the CDC said. There's also been a steady rise in new infections in recent years, concentrated mainly among young men.
"We remain concerned about potentially increasing levels of sexual risk," CDC director Dr. Tom Frieden said in an agency news release. The new analysis tracked 2011 data from 20 major cities across the United States.
One expert said that everyone, including gay and bisexual men, must remain vigilant against the threat of HIV.
"The nightmare epidemic of AIDS in this country is a fading memory, but HIV infection is a serious health issue with profound impacts on well-being, personal and societal costs," said Dr. Bruce Hirch, an attending physician in the division of infectious diseases at North Shore University Hospital in Manhasset, N.Y. "The miracle of long life and improved health [that has come] with treatment for HIV should not lull us into taking health for granted."
There was some good news from the report, however: Once men knew their HIV-positive status, their rate of engaging in risky sex was much lower.
For example, one out of every three HIV-positive gay and bisexual men who did not know they were infected had recent unprotected anal sex with a partner who they believed was HIV-negative or whose HIV status they did not know, the CDC found.
On the other hand, HIV-positive gay and bisexual men who knew they were infected were 60 percent less likely to have unprotected sex with HIV-negative partners or those with unknown HIV status.
"These findings are a stark reminder that we cannot afford to undervalue HIV testing," said Dr. Jonathan Mermin, director of the National Center for HIV/AIDS, Viral Hepatitis, STD, and TB Prevention at the CDC. "Getting an HIV test at least once a year is essential for gay and bisexual men. Only when a man knows his status can he make the best prevention choices for himself and his partners."
More frequent testing for HIV may be best in terms of prevention. For example, the study found that 7 percent of men who said they had tested negative for HIV between 7 and 12 months ago were found to be positive by the time of the study, compared to only 4 percent of those who said they had tested negative within the past 3 months.
Still, the researchers stressed that far too many gay and bisexual men are unaware of their HIV status. In 2011, one-third of gay and bisexual men said they had not been tested for HIV within the past 12 months, as recommended by the CDC.
There is also a widening array of HIV prevention options out there, the agency said. These include consistent and correct condom use and cutting down on the number of sexual partners and engaging in safe sex.
In addition, people who find they are infected with HIV should begin therapy early, to cut down the odds that they will transmit the virus to a partner, the CDC said. And for people who are at high risk of exposure to the virus, taking daily medication ("pre-exposure prophylaxis," or PrEP) can cut down their risk of acquiring HIV.
The study is published in the Nov. 27 issue of the CDC journal Morbidity and Mortality Weekly Report.
More information
The U.S. National Institute of Allergy and Infectious Diseases has more about HIV/AIDS.
Copyright © 2022 HealthDay. All rights reserved.