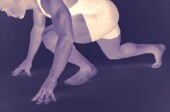 FRIDAY, Feb. 21, 2014 (HealthDay News) — Fitter, slimmer men are more likely to have fewer potentially dangerous germs in their nasal passages compared to heavier guys, a new study contends.
The finding gives credence to the theory that one reason women are attracted to fitter males is that these men keep bacteria at bay and are more resistant to disease, the Polish researchers said.
The number and type of germs carried in a man's respiratory tract "can be an honest indicator of the biological condition of an individual," a team led by Boguslaw Pawlowski, of the University of Wroclaw, concluded. The findings were published online recently in the American Journal of Human Biology.
Why do humans find certain individuals more attractive than others? From an evolutionary standpoint, the researchers say, certain body or facial characteristics may signify better health and better genetics — important in mate selection.
One key aspect of health is what the Polish team call "immunocompetence" — the ability of a person's immune system to fend off harmful germs or other threats. They theorized that more attractive men might also be more immunocompetent.
One way to measure immune system strength is to look at the number and type of harmful bacteria in a person's respiratory tract. To see whether attractiveness and immune system strength are linked, Pawlowski's team "analyzed whether nasal and throat colonization with potentially [harmful] bacteria is related to body height and [weight] in both sexes and to waist-to-hip ratio in females."
They took nose and throat swabs from 90 healthy men and 103 healthy women to determine which of them were "colonized" by six potentially harmful species of bacteria bugs, including those from the staphylococcus or streptococcus families of microbes.
"We found that males with relatively high lean body mass in comparison to fat content appeared less likely to be colonized by opportunistic and therefore potentially [harmful] microorganisms," the team wrote.
In other words, heavier, less fit men were more likely to carry these "bad bacteria" in their noses and throats than were slimmer, more attractive guys.
No weight-related differences in bacterial colonization were found in women, however.
The researchers said they believe this is the first study to examine the link between weight and the presence of potentially harmful bacteria in the nose and throat.
More information
The U.S. Centers for Disease Control and Prevention has more about weight.