More Than Quarter of Stroke Patients Reach ER Within 'Golden Hour'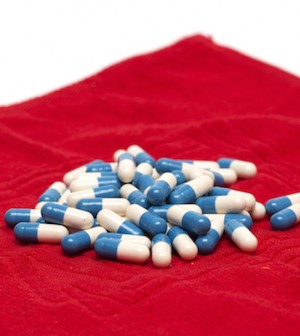 THURSDAY, June 3 (HealthDay News) — Researchers report that only about a quarter of people who have strokes caused by blocked arteries arrive at a hospital within one hour of the attack — the "golden hour" where treatment with a powerful clot-dissolving drug is expected to work best.
The report also notes that only one in four of patients who do arrive within an hour go on to get the potentially lifesaving therapy, called tissue plasminogen activator (tPA).
Overall, there is a "modestly improving trend" in time of arrival at hospitals of patients with ischemic stroke, the most common form, said study author Dr. Jeffrey L. Saver, director of the Stroke Center at the University of California, Los Angeles.
His team's report uses data from nearly 107,000 stroke patients treated between 2003 and 2007 at 905 hospitals participating in the American Stroke Association's "Get With the GuidelinesStroke" program.
Ischemic stroke, where a clot blocks an artery, can be treated by injecting tPA, which can quickly dissolve the blockage. Restoring blood flow quickly is key to limiting stroke damage.
Current guidelines direct that tPA be given for up to 4.5 hours after a stroke occurs, but it is best used during the first three hours.
Time of arrival is a key to getting that treatment within that window, the study shows. While one in four patients arriving in the "golden hour" got tPA, only one in eight arriving one to three hours after stroke onset got the drug, and virtually none arriving later than that got the treatment.
Why do so many patients not receive tPA, even if they arrive at the hospital relatively soon? According to Saver, there are a number of necessary steps that have to be gone through before the treatment can be given. "A stroke physician must examine the patient to determine that a stroke has occurred, a brain scan must be done to determine whether it is an ischemic stroke, blood tests must be done to be sure than tPA therapy will be safe, a medical history must be done and informed consent obtained," he said.
Several measures are being taken to speed that evaluation process, Saver said. One is to have paramedics in the ambulance call ahead to alert the hospital about the probable need for stroke treatment.
Another effort is aimed at raising public awareness of stroke symptoms and what should be done when they occur, said Dr. Ralph S. Sacco, chairman of neurology at the University of Miami Miller School of Medicine, and president-elect of the American Heart Association.
The association's public education program stresses the recognition of stroke symptoms, such as a sudden loss of vision, sudden speech problems, sudden severe dizziness and sudden severe headache.
"We currently tell the public to call 911 when these happen, because 'time is brain' and every delay in getting to the closest stroke center reduces the chance of improvement," Sacco said.
Callers should wait for the paramedics to arrive rather than heading to the hospital themselves, Sacco said. "Studies have shown that those who are brought to the hospital by the family do not get triaged as rapidly for stroke as those who arrive by ambulance," he said.
Triage is the determination of the problem that brought the patient to the hospital, and prioritizing the patient in relation to others waiting for care.
A truly critical moment — recognizing that this is a stroke — occurs in the moments before a 911 call is made, Sacco said.
"Lack of awareness of the warning signs of stroke is the single greatest reason why people do not get treatment in time," he said.
More information
Find out more about the warning signs of a stroke at the American Heart Association.
Source: HealthDay
​