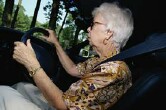 THURSDAY, Feb. 13, 2014 (HealthDay News) — Many stroke survivors start driving again without any testing to ensure they can still drive safely, a new survey indicates.
Researchers from the Medical University of South Carolina found that more than half of the 162 stroke survivors in their study returned to driving following their stroke, with 59 percent of those returning within one month. Less than 6 percent of all stroke survivors received any formal driving evaluation before getting behind the wheel again.
"It's been my experience that even though one of the very first questions stroke patients ask is when they can go back to driving, very few will actually go and get a formal driving evaluation," said study author Dr. Shelly Ozark, an assistant professor of neurology.
"Some of that is the nature of stroke itself," she said. "Even though it can be a devastating illness, some people think if they have no problem walking or seeing, they're not affected. People don't necessarily recognize they have deficits."
Ozark said most states do not require such testing after a stroke unless it is for a commercial license.
"I don't think [stroke patients] should allow themselves or others to be put at risk without a formal assessment," she said. "We recommend they get formal testing by a trained driving examiner. There needs to be greater scrutiny at the state level as to the potential impairments of drivers returning to the road."
The findings are to be presented Thursday at the International Stroke Conference in San Diego. Research presented at scientific conferences typically has not been peer-reviewed or published, so the results are considered preliminary.
Stroke is a leading cause of death in the United States, according to the U.S. Centers for Disease Control and Prevention. Nearly 800,000 people in the United States suffer a stroke each year, and one-quarter of those are people who have had a previous stroke.
The patients who were surveyed for the study a year after their stroke had experienced various degrees of stroke, ranging from mild to severe, Ozark said. Many physical and mental skills related to driving competence can be affected by stroke, she said, including vision, muscle strength, dexterity and attention span.
Although slightly more than 5 percent of patients returning to driving had received any formal evaluation of their driving skills, 11 percent reported that their stroke had a great effect on their ability to perform valued life activities, the study found.
But among those who said the stroke had no effect on their ability to perform valued life activities, nearly 46 percent decided to limit their driving anyway.
"That's something I don't have a good way of explaining," Ozark said. "Some just feel there's the potential for them to have another stroke … and patients are often worried what the circumstances will be if they do have a second stroke."
Dr. Jay Volpi, a neurologist specializing in stroke at Houston Methodist Hospital in Texas, said stroke patients whose speech has been impaired often cannot read properly, which can affect their ability to interpret road signs.
"Among my patients, many times it's pretty obvious they're OK or pretty obvious they're never going to be able to drive again," said Volpi, who wasn't involved in the research. "But many times they fall in the middle range where we just don't know."
More information
The American Stroke Association offers more on the impact of stroke.