Steroids May Be Overrated in Treatment of COPD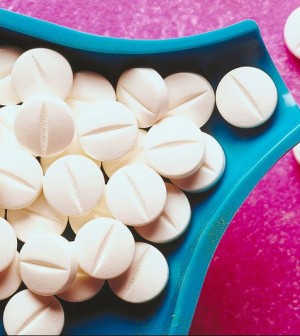 THURSDAY, Feb. 4Patients suffering from chronic obstructive pulmonary disease (COPD) are often given inhaled corticosteroids to help ease exacerbations of the disease, but a new study finds these drugs may be of only limited benefit.
While inhaled corticosteroids have been widely prescribed to help treat the symptoms of COPD, they have also been linked to an increased risk of pneumonia, the researchers note.
"I think the study is important and shows that the benefits of addition of inhaled corticosteroids to long-acting beta agonist formulations are only minimal compared to significant risks of pneumonia," said Dr. Sonal Singh, an assistant professor of medicine at Johns Hopkins University, who was not involved in the study.
"Unfortunately, therapeutic options for patients with COPD are limited and carry their own risks such as cardiovascular risks with anticholinergics," he added. "Thus a regulatory reassessment of the safety of COPD inhalers is needed."
COPD is an incurable condition that progressively destroys the lungs. While there is no cure, various medications can help treat the symptoms, including inhaled corticosteroids, long-acting beta agonists such as Serevent, short-acting beta agonists such as albuterol, and anticholinergics such as Spiriva.
Singh noted that while inhaled corticosteroids don't seem to add much to the treatment of COPD, long-acting beta agonists are not approved for use without them. "It's a real catch-22. It's not clear that there are any benefits and we know that the harms are substantial," Singh said.
"I sometimes use inhaled corticosteroids, but it's becoming less and less," he added.
The report is published in the February issue of the journal Chest.
For the study, Dr. Ritesh Agarwal and colleagues from the department of pulmonary medicine at the Postgraduate Institute of Medical Education and Research in Chandigarh, India, looked at 11 studies that compared inhaled corticosteroids with placebos in some 8,164 COPD patients.
The researchers found that these drugs only had a modest effect in reducing the number of exacerbations. In fact, even this small benefit was limited to patients who had lost more than 50 percent of their lung function.
Yet, further analysis of the data found that even 50 percent of lung function was not a predictor of the ability of inhaled corticosteroids to reduce the number of exacerbations, Agarwal's team found.
Given these findings, the researchers say that "the role of inhaled corticosteroids in preventing COPD exacerbations needs reappraisal."
However, Dr. Neil Schachter, a professor of pulmonary medicine at Mount Sinai Medical Center in New York City, isn't ready to give up on inhaled corticosteroids.
"There does appear to be an improvement in terms of the rate of exacerbations of patients with COPD who take drugs that contain corticosteroids," he said. "That confirms what most people believe, that if you treat COPD with most of the drugs we use to treat it, you can reduce and delay the onset of exacerbations."
Schachter treats most of his COPD patients with a combination of drugs. Many patients take inhaled corticosteroids, long-acting beta agonists and the anticholinergic Spiriva. He said the effects of these drugs are additive, making for a more powerful treatment than using a single drug.
"My bias is to use everything," he said. "My impression is that these patients do better on triple therapy. They have better lives, less symptoms, fewer exacerbations and they probably live a bit longer."
Another report in the same issue of the journal found that COPD patients have a high rate of depression. In this study, a research team led by Christoph R. Meier, from University Basel in Switzerland, collected data on 35,722 COPD patients and 35,722 healthy people.
The researchers found among those with COPD, 23.1 percent were diagnosed with depression, compared with 16.8 percent of people without COPD. Moreover, those with the most severe COPD had the greatest risk of developing depression.
More information
For more information on COPD, visit the U.S. National Heart, Lung, and Blood Institute.
Source: HealthDay
​