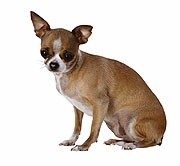 WEDNESDAY, Feb. 12, 2014 (HealthDay News) — Selective breeding of toy dogs is now resulting in a common condition that can cause skull and brain changes with painful and debilitating effects, a new British study finds.
The condition, called Chiari malformation, is caused by breeding that is meant to make such dog breeds as Cavalier King Charles Spaniels, Chihuahuas, Griffon Bruxellois and their crosses more doll-like, the researchers said.
Chiari malformation also affects one in 1,280 people and occurs when certain skull bones fuse too early, causing parts of the brain to push through an opening in the base of the skull. A better understanding of the genetic causes of the condition might lead to improved treatments for both people and dogs, said the researchers from the School of Veterinary Medicine at the University of Surrey.
They compared normal Griffon Bruxellois with those that had Chiari malformation. The dogs with the disease had taller foreheads and differently shaped brains. In the most severely affected dogs, the cerebellum was pushed beneath the main part of the brain.
Many dogs with Chiari malformation have headaches, difficulty walking and even paralysis, said the authors of the study, which was published Feb. 12 in the journal PLoS One.
"Chiari malformation can be described as trying to fit a big foot into a small shoe," study lead author Clare Rusbridge said in a journal news release. "It can be very painful, causing headaches and pressure on the brain and can result in fluid-filled cavities in the spinal cord."
"Our latest discoveries will be significant in driving this research forward and hopefully allow us to identify which genes may be associated with the condition," she said.
"Our next steps will be to apply our technique to other breeds with Chiari malformation and investigate more sophisticated ways of screening so risk of disease can be detected more easily, at an earlier age and with a single MRI scan," Rusbridge added.
More information
The U.S. National Institute of Neurological Disorders and Stroke has more about Chiari malformation in people.