Program May Help Prevent Falls in Hospitalized Patients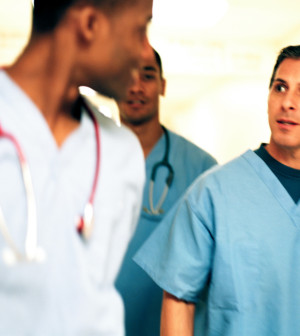 TUESDAY, Nov. 2A patient-tailored fall prevention program significantly reduced the number of falls suffered by hospital patients, a new study reports.
Hospital patients are at increased risk for falls because of illnesses, treatments and being in an unfamiliar environment. Falls and fall-related injuries can be devastating and costly for patients, health care workers and the health care system, according to Patricia C. Dykes, of Partners HealthCare System, Brigham and Women's Hospital and Harvard Medical School, and colleagues.
The team's fall prevention tool kit (FPTK) included a fall risk assessment, patient-specific fall prevention plan and an educational handout and poster over the patient's hospital bed.
From January to June 2009, the researchers compared patient fall rates in eight units of four urban U.S. hospitals. Usual care was given to 5,104 patients in four units and the FPTK was used for 5,160 patients in the other four units.
The average age of the 51.3 percent of patients aged 65 or older was 79 years while the average age of patients younger than 65 was 48 years.
During the study, there were 67 falls among patients in the hospital units that used FPTK and 87 falls among patients in the units with usual care. The researchers calculated that for all eight hospital units in the study, the FPTK could potentially prevent one fall every four days, 7.5 falls each month, and about 90 falls each year.
The study findings are published in the Nov. 3 issue of the Journal of the American Medical Association, a theme issue on aging.
"To our knowledge, this is the first fall prevention clinical trial that provides evidence for using a specific HIT [health information technology] intervention to reduce falls in short-stay hospitals," the researchers wrote in a news release from the publisher.
"The effectiveness of the FPTK in older patients provides evidence that a HIT program that tailors interventions to address patient-specific determinants of risk and is implemented within existing workflows is effective in acute care hospitals with older adults. Because patient falls in hospitals are a major risk factor for fractures and other injuries, reducing falls is an important first step toward injury prevention, and any reduction in patient falls has clinical significance," Dykes and colleagues said.
"Further study is needed to determine if a similar program evaluated over a longer period of time can significantly reduce repeat falls. Moreover, work is needed to develop a set of interventions that will prevent fall-related injuries. However, the FPTK was effective at reducing numbers of falls in intervention versus control units," the researchers concluded.
More information
The U.S. Centers for Disease Control and Prevention has more about fall prevention.
Source: HealthDay
​