Pent-Up Stress Could Harm Health of Middle-Aged Women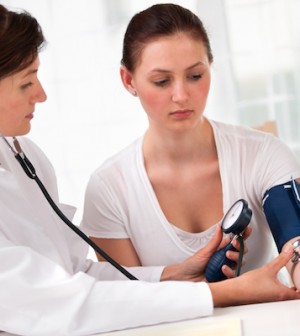 FRIDAY, June 7Many middle-aged women develop aches and pains and other physical symptoms as a result of chronic stress, according to a decades-long study.
Researchers in Sweden examined long-term data collected from about 1,500 women and found that about 20 percent of middle-aged women experienced constant or frequent stress during the previous five years. The highest rates of stress occurred among women aged 40 to 60 and those who were single or smokers (or both).
Among those who reported long-term stress, 40 percent said they suffered aches and pains in their muscles and joints, 28 percent experienced headaches or migraines and 28 percent reported gastrointestinal problems, according to the researchers at the Sahlgrenska Academy of the University of Gothenburg.
The study appeared recently in the International Journal of Internal Medicine.
Even after adjusting for smoking, body weight and physical activity levels, there was a clear link between stress and an increased risk of physical symptoms, the researchers said.
The women in the study were followed since the late 1960s. Among those who experienced long-term stress but did not report any stress-related physical symptoms at the start of the study, 27 percent had new muscular and joint pain symptoms 12 years later, and about 15 percent reported new complaints in the form of headaches or gastrointestinal problems.
"Since 1968, women's lifestyles have changed in many ways," researcher Dominique Hange said in a university news release. "For example, many more women now work outside the home. Naturally, these changes can affect the experience of stress."
"Although we've used exactly the same question since 1968, we can't take it for granted that the term 'stress' has exactly the same meaning today," Hange added. "It might also be more socially accepted today to acknowledge one's experience of stress."
Hange said the "most important conclusion [from this study] is that single women, women who do not work outside the home and women who smoke are particularly vulnerable to stress. Here, we see a greater need for preventive measures from society."
The next step is to identify methods that doctors can use to help patients deal with stress-related physical complaints and illnesses, and to pinpoint ways to reduce stress at work, the researchers said.
More information
The U.S. National Institute of Mental Health has more about stress.
Are You Living with Psoriasis?
A growing knowledge of the skin disease called psoriasis is leading to greater treatment choices, including personalized therapies, the U.S. Food and Drug Administration reports.
Psoriasis is an immune system disorder that causes overproduction of skin cells, resulting in scaling, pain, swelling, redness and heat. The condition affects about 7.5 million Americans.
"As we better understand the disease, researchers know more about what specific factors to target in order to develop effective treatments," FDA dermatologist Dr. Melinda McCord said in an agency news release.
There is no cure for psoriasis, so the main goals of treatments are to stop skin cell overproduction and reduce inflammation. Current therapies include medicines applied to the skin (topical), light treatment (phototherapy), or drugs taken by mouth or given by injection.
Doctors used to take a step-by-step approach, starting patients with mild to moderate psoriasis on topical therapy. If that was ineffective, doctors moved on to phototherapy or drug treatment.
​