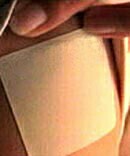 WEDNESDAY, March 12, 2014 (HealthDay News) — Nicotine patches don't seem to help pregnant women quit smoking, a new study has found.
The study included 402 pregnant women in France who smoked at least five cigarettes a day. The women, who were 12 to 20 weeks' pregnant, were randomly selected to use either 16-hour nicotine patches or inactive placebo patches until they gave birth.
The study participants also received counseling to help them quit smoking and were assessed monthly. Only 5.5 percent of the women in the nicotine patch group and 5.1 percent of those in the placebo group quit smoking entirely, the investigators reported in the March 11 online edition of the BMJ.
The researchers also found that women in the nicotine patch group had significantly higher blood pressure than those in the placebo group. This suggests that future studies looking at nicotine replacement therapy in pregnant smokers should consider blood pressure, the study authors noted in a journal news release.
"These are disappointing results, and should encourage efforts to evaluate new approaches that are both drug- and non-drug-related," Dr. Ivan Berlin, of the Hopital Pitie-Salpetriere-Universite in Paris, and colleagues concluded. "In the absence of evidence-based drug interventions, behavioral support remains the core intervention to help pregnant smokers to quit."
Counseling was delayed during the first two weeks of the study and may explain why both groups of women had low rates of success in quitting smoking, Leonie Brose, of the Institute of Psychiatry at King's College London, said in an accompanying editorial.
"It may be too early to abandon the option of [nicotine-replacement therapy] entirely," she wrote. "However, a much greater effort is still needed to identify, test and deliver more effective treatments for pregnant smokers who struggle to quit."
More information
The U.S. Centers for Disease Control and Prevention has more about smoking and pregnancy.