New Drug Studied for Hard-to-Treat Vascular Condition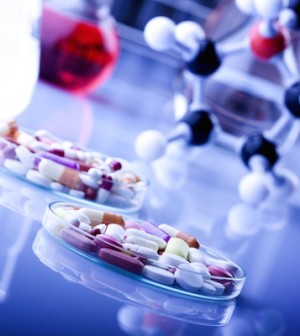 WEDNESDAY, Aug. 4A drug called icatibant is effective in treating acute attacks of a condition that causes potentially life-threatening swelling in the throat and other parts of the body, new research shows.
People with hereditary angioedema (HAE) suffer recurrent episodes of swelling caused by fluid leaking from blood vessels. It can occur in a number of areas, including the face, extremities, gastrointestinal tract or the throat and larynx, where it can cause dangerous blockage of the airway, researchers explained in a news release from Massachusetts General Hospital in Boston, where one of two recent trials of the drug was based. The other trial was in Europe.
The condition is caused by low levels or poor function of a protein called C1 esterase inhibitor. The new drug, icatibant, blocks the receptor for a protein called bradykinin, which is thought to play a role in many HAE symptoms.
By interfering with bradykinin's normal actions, which include dilating blood vessels and producing symptoms of inflammation, icatibant prevents HAE's abnormal swelling, the researchers found.
"We have not had many options for treating painful, debilitating and potentially life-threatening attacks of hereditary angioedema, and these studies showed that icatibant improves symptoms and is not associated with any concerning side effects," explained Dr. Aleena Banerji, principal investigator for the Massachusetts General Hospital study site.
Icatibant has already been approved in the European Union. As part of its application to have the drug approved by the U.S. Food and Drug Administration, German drug maker Jerini Inc., conducted the two randomized, double-blind clinical trials, which included a total of 130 patients.
Although the results of one trial did not reach statistical significance, the researchers concluded that icatibant is safe and effective in treating acute attacks of HAE. No serious treatment-related side effects were reported in either trial, according to the findings published in the Aug. 5 issue of the New England Journal of Medicine.
Currently available treatments for U.S. patients with the condition include C1 esterase inhibitor infusions and, for acute reactions, an injected drug that inhibits an enzyme called kallikrein. The shot can only be given by a health care professional due to the risk of life-threatening allergic reactions.
A larger, worldwide phase 3 trial of icatibant is currently underway.
More information
The U.S. National Library of Medicine has more about hereditary angioedema.
Source: HealthDay
​