Mouse Study Reveals a Cancer Cell Escape Route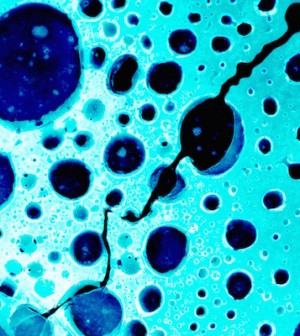 FRIDAY, Oct. 29Research in mice reveals that a small number of cancer cells escape from chemotherapy by hiding out in the thymus, the organ where immune cells mature.
While in the thymus, the cancer cells are covered in growth factors that protect them from the effects of chemotherapy drugs. These cancer cells later cause tumor relapse, said the Massachusetts Institute of Technology (MIT) biologists.
The study findings are published in the Oct. 29 issue of the journal Cell.
The MIT team plans to conduct tests, in mice, of drugs that interfere with one of those protective growth factors. Using these drugs in combination with chemotherapy could offer a one-two punch that eliminates tumor cells and prevents relapse, they suggest.
"Successful cancer therapy needs to involve a component that kills tumor cells as well as a component that blocks pro-survival signals. Current cancer therapies fail to target this survival response," study leader Michael Hemann, an assistant professor of biology, said in an MIT news release.
While he and his colleagues found that cancer cells seek refuge in the thymus, they believe there may be other places in the body, such as bone marrow, where cancer cells are protected from chemotherapy.
It's not known whether the findings will translate to human patients, but they do suggest several targets for investigation, researchers said.
More information
The U.S. National Cancer Institute has more about chemotherapy.
Source: HealthDay
​