Hypertonic Fluids Don't Seem to Aid Brain Injury Outcome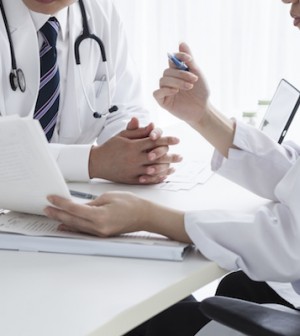 TUESDAY, Oct. 5Early administration of hypertonic fluids after a severe traumatic brain injury (TBI) doesn't improve patient outcomes, a new study finds.
Hypertonic fluids are solutions that contain increased concentrations of certain electrolytes and are believed to help reduce intracranial pressure following a brain injury.
Previous research has suggested early administration of hypertonic fluids to severe TBI patients may improve the likelihood of survival, but there have been no definitive findings from large trials.
This new study included 1,087 patients with severe TBI who did not have shock caused by blood loss (hypovolemic shock). Some patients received hypertonic fluids before they arrived at hospital while others received normal saline solution.
After six months, both groups of patients had similar survival and disability rates, according to the report published in the Oct. 6 issue of the Journal of the American Medical Association.
"In summary, in this randomized controlled trial, we were unable to demonstrate any improvement in 6-month neurologic outcome or survival for trauma patients with presumed severe TBI without evidence of hypovolemic shock," wrote Dr. Eileen M. Bulger, of Harborview Medical Center in Seattle, and colleagues, noting that the patients all received a single large dose of the hypertonic fluids, compared with normal saline, in a setting outside the hospital.
"While this does not preclude a benefit from such treatment were it administered differently, at present there appears to be no compelling reason to adopt a practice of hypertonic fluid resuscitation for TBI in the out-of-hospital setting," she concluded.
More information
The U.S. National Institute of Neurological Disorders and Stroke has more about traumatic brain injury.
Source: HealthDay
​