Could a Prostate Cancer Treatment Raise Colon Cancer Risk?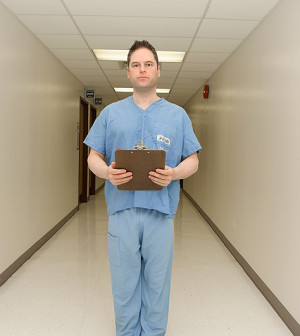 WEDNESDAY, Nov. 10Men taking hormone therapy for prostate cancer may have a slightly increased risk of developing colorectal cancer, a new study suggests.
Androgen deprivation therapy is often prescribed to treat prostate cancer. But its use in treating low-risk cancer is controversial, because two potential side effects, diabetes and obesity, are risk factors for colorectal cancer, the researchers say.
"We found that the use of androgen deprivation therapy, either through injections or through surgical castration, for prostate cancer was associated with a 30 to 40 percent increase in risk for colorectal cancer," said lead researcher Dr. Vahakn B. Shahinian, an assistant professor of internal medicine at the University of Michigan.
As experts debate whether routine prostate-specific antigen (PSA) testing causes many men to undergo unneeded treatment for prostate cancer, this finding appears to add another piece to the puzzle.
Shahinian noted that the absolute risk of developing colorectal cancer because of androgen deprivation therapy is very small. "Over a five-year period, I would say there would be no more than a 2.5 percent absolute risk of developing colorectal cancer," he said.
However, he thinks androgen deprivation therapy is overused.
Its value in treating late-stage prostate cancer that has metastasized is well-grounded, Shahinian said. And when combined with radiation, it is considered beneficial for treating locally advanced prostate cancer, he added.
But as primary therapy in lower-risk or localized tumors, "I don't think there is very good evidence for its use," Shahinian said.
"A lot of men are getting it in settings where they just have a biochemical recurrence of their tumor, so they just have an elevated PSA, but are otherwise doing fine — that's a scenario where there isn't a proven benefit," he said.
The report is published in the Nov. 10 online edition and the Dec. 1 print issue of the Journal of the National Cancer Institute.
Shahinian and colleagues used data from the Surveillance, Epidemiology, and End Results database of the U.S. National Cancer Institute.
The researchers identified 107,859 men aged 67 years or older diagnosed with prostate cancer between 1993 and 2002, and followed-up through 2004.
The investigators found a 30 to 40 percent relative increase in the rate of colorectal cancer among the men who received hormone therapy compared with those who did not.
The longer the men received hormone therapy, the greater was their risk of developing colorectal cancer, the researchers found. The highest risk was seen in men who had their testicles removed.
Jennifer H. Lin, an instructor in preventive medicine at Brigham and Women's Hospital in Boston and co-author of an accompanying journal editorial, said this is the first large observational study showing that androgens may prevent colorectal cancer development in men.
Earlier research has shown that hormone replacement therapy lowers the risk for colorectal cancer in postmenopausal women, she added.
"Obesity is an important risk factor, especially in men, for colorectal cancer development," she added. "Obese men also tend to have lower androgen levels, suggesting a potential role of androgens in colorectal cancer development."
The findings support the need for routine screening for colorectal cancer and the adoption of lifestyle practices, such as physical activity, to help prevent colorectal cancer, she said. "This is especially important among prostate cancer patients who undergo anti-androgen therapies," Lin stressed.
Dr. Anthony D'Amico, a prostate cancer expert at Brigham and Women's Hospital, sees the study results differently.
"This is a classic example of true, true and unrelated," he said. Many men diagnosed with prostate cancer get screened for colorectal cancer for the first time, so cancers are picked up because of screening that has nothing to do with treatment, he said.
"To discern if this is a real effect or not, the researchers would have to assess the intervals of colorectal screening in the men who got long-term hormones or prostatectomy or none. I'll bet you'll find that the incidences of this are affected by the fact that most of them are having their screening for the first time," D'Amico said.
"So I am not convinced," he added.
More information
For more information on prostate cancer, visit the American Cancer Society.
Source: HealthDay
​