Chronic Back Pain Soothed by Cognitive Behavioral Therapy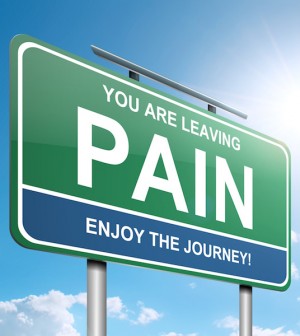 THURSDAY, Feb. 25People suffering from chronic lower back pain may find relief through cognitive behavioral therapy, a short-term treatment aimed at challenging and reframing negative beliefs.
Chronic lower back pain is one of the three most disabling conditions in the developed world, the British researchers report. And, it can be expensive to treat.
"Back pain is a physical health problem, not a psychological problem," said study co-author Zara Hansen, a physiotherapist and cognitive behavioral therapist at the University of Warwick in Coventry, England. "The intervention uses a psychological model to understand how we can manage back pain better, but it is not psychotherapy,"
In the study, cognitive behavioral therapy helped people change their thinking about their back pain and how they managed it, Hansen said.
"This is a relatively new approach to helping people manage long-term health conditions. People with persistent back pain are at risk of developing anxiety and depression, but this intervention did not aim to treat anxiety and depression," she said.
For the study, published in the Feb. 26 online edition of The Lancet, Hansen's team randomly assigned 701 patients with low back pain to therapy in addition to standard treatment or to standard treatment alone. The standard treatment included guidance on staying active and the best use of pain medication. The others got up to six sessions of group therapy. All participants had their back pain measured at the start of the study and one year later.
At one year, those who had CBT showed a 2.4 point improvement on one disability test and a 13.8 percent improvement on the other. Those who had no therapy saw a 1.1 point improvement on the one score and a 5.4 percent improvement on the other, the researchers found.
Cognitive behavioral therapy for health problems is based on a psychological model, Hansen said.
"The model explains that the way that we think about our health problems will determine how we behave or, put another way, how we manage them," Hansen said. "If we have unhelpful ways of thinking about back pain, we'll behave or manage it in unhelpful ways. A cognitive behavioral intervention targets the thoughts or behaviors directly."
"For example, if I have persistent back pain and I think that I should avoid anything that brings on pain in case I am damaging myself, then I will slowly become less and less active, less and less fit, and then the stiffness and weakness that comes with using my back less will make my back feel worse," Hansen said.
Therapy, offered individually or in a group setting, helps patients identify this vicious cycle. The aim is to understand that pain doesn't usually signify ongoing damage and that by gradually increasing activity they can relieve the stiffness and weakness, Hansen said. "The main aim of the intervention is to help people get back to doing enjoyable and/or rewarding activities that they may have stopped or avoided due to back pain," she said.
Back pain is increasingly common, said Dr. Laxmaiah Manchikanti, medical director of the Pain Management Center of Paducah, Ky. "However, it can be managed effectively for a significant proportion of patients in a primary-care setting with (therapy) when it is available."
Therapy costs about half of other treatments, such as acupuncture, the researchers noted. But as a treatment for back pain, it is not usually covered by health insurance in the United States.
Manchikanti noted that in Great Britain such therapy is available at a low-cost paid for by insurance. "Other countries than the U.S. should apply cognitive behavioral therapy prior to embarking on specialty referrals with other interventions or surgery," he said. "For the U.S., we should consider developing such systems."
Some other experts also think the therapy merits consideration for coverage. "The study supports the role of bio-behavioral therapy as a treatment option and notes that it does not expose patients to additional risk like many other treatment options do," said Brook Martin, a research scientist at the Comparative Effectiveness, Cost and Outcomes Research Center of the University of Washington.
"Despite some limitations, I would hope that this study will, at a minimum, raise providers' awareness to the potential role and cost-effectiveness that bio-behavioral therapy may play in clinical practice." he said.
More information
For more information on back pain, visit the U.S. National Library of Medicine.
Source: HealthDay
​