Central Catheters May Raise Risk of Blood Clots After Surgery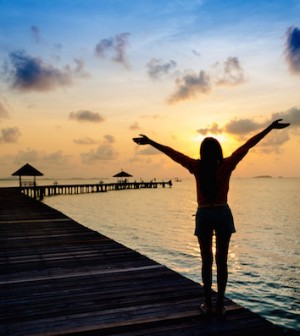 TUESDAY, Aug. 16The risk of deep vein thrombosis — a sometimes deadly blood clot that can form in a deep vein after general surgery — is low when preventive measures such as anti-clotting drugs are used, researchers say.
The investigators also found that most cases of deep vein thrombosis, or DVT, that occur after general surgery are associated with catheter use.
In the new study, published in the Aug. 15 online edition of the journal Archives of Surgery, researchers reviewed the medical records of 2,189 patients across the United States who had general surgery in 2008 and 2009, including surgeries of the pancreas, esophagus, colon and rectum, intestines and stomach.
DVT occurred in 35 (1.6 percent) of the patients, and 94.3 percent of those cases were detected because patients experienced DVT symptoms. Only 5.7 percent of the cases were found through routine screening.
Sixty percent of the DVT cases were associated with catheter use. The researchers also found that 62.9 percent of the patients with DVT had other underlying health problems, including pulmonary embolism (11.4 percent), a potentially fatal clot that travels to the lungs.
After 30 days, the death rate among patients who developed DVT was 14.2 percent, the study authors noted in a journal news release. The average rate of hospital compliance with DVT preventive measures was 93 percent, they added.
"With more than half of DVTs being caused by central catheters, efforts toward DVT prevention should include closer scrutiny to the need for central catheters, including limiting the duration of central catheters, and consideration of the added use or perhaps higher dose of anticoagulation [anti-clotting drugs] when central catheters are present," Dr. Brian R. Smith and colleagues at the University of California, Irvine Medical Center, concluded in their report.
More information
The Society for Vascular Surgery has more about DVT.
Source: HealthDay
​