Blacks Develop High Blood Pressure a Year Ahead of Whites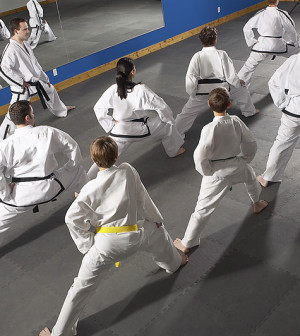 TUESDAY, Sept. 13It's well known that blacks are at greater risk for developing high blood pressure than whites are, but new research now suggests they also progress more rapidly from a pre-hypertension state to full-blown high blood pressure.
The findings, published online and in the October print issue of Hypertension, suggest that intervening earlier with medication, as well as lifestyle changes, may help prevent high blood pressure and some of its consequences among people who are at the greatest risk.
Pre-hypertension is defined as a systolic (pumping) pressure between 120 and 139, and a diastolic (resting) reading between 80 and 89. High blood pressure (or hypertension) is a blood pressure reading of 140/90 or higher. A blood pressure reading of less than 120/80 is considered ideal.
Researchers analyzed electronic medical records of 18,865 adults aged 18 to 85 from 197 health clinics in the southeastern United States between 2003 and 2009. Thirty percent of the study participants were black.
According to the findings, blacks had a 35 percent greater risk of progressing from pre-hypertension to hypertension and tended to develop the condition up to one year earlier than their white counterparts. Exactly why this occurs is not fully understood.
"This means the well-known end-points of hypertension — such as kidney failure, stroke, heart failure — could occur faster in blacks than in whites," said study author Anbesaw Selassie, an epidemiologist at the Medical University of South Carolina in Charleston.
Race was not the only risk factor seen in the new study. Other individuals who were at increased risk for rapid progression to hypertension included those with systolic blood pressure ranging from 130 to 139, as well as those participants aged 75 and older. Other risk factors include being overweight or obese and having type 2 diabetes.
In high-risk individuals, "it is time to seriously consider the use of safe and cheap blood pressure-lowering medicines to arrest the progression of pre-hypertension," Selassie said.
Previous research has demonstrated that such early therapeutic preventive measures are "effective, practical, and cost-effective if one considers the cost of caring for hypertension and its complications," Selassie added.
"This is very important information," said Dr. Stephen Green, the chief of cardiology at North Shore University Hospital in Manhasset, N.Y. "Blacks with pre-hypertension develop high blood pressure quicker than whites," he said.
Lifestyle changes, like losing weight if you are overweight or obese, consuming less salt and eating a healthy diet can help lower this risk. The most widely recommended diet to lower blood pressure is the DASH diet (Dietary Approaches to Stop Hypertension), which focuses on fruits and vegetables, low-fat or non-fat dairy products and whole grains, he added.
Still, Green noted, "we should be more aggressive with medication in people who are at high risk."
More information
The U.S. National Heart, Lung, and Blood Institute has more on high blood pressure.
Source: HealthDay
​