Young Chimps Play Much Like Children Do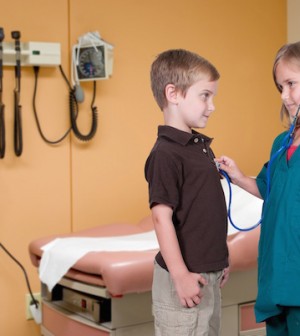 FRIDAY, Nov. 18Young chimpanzees play and develop in much the same way as human children do, and researchers say that might help shed light on the role of human play behavior.
Italian researchers found that solitary play in chimpanzees peaks in infancy, while levels of social play remained relatively constant between infants and juveniles. However, there were significant changes in measures of social play such as complexity and playmate choice as the chimps grew up.
A comparison of young chimp and human behavior revealed that both species show significant development in play behavior as they progress from infancy to childhood, and both consistently use playful facial expressions to communicate and build social connections.
The researchers, Elisabetta Palagi and Giada Cordoni of the University of Pisa, also found that both chimps and humans prefer peers for play partners.
The study was published Nov. 16 in the online journal PLoS One.
This is the first research to compare development of play behavior in chimpanzees and humans in a standardized way, the study authors noted in a journal news release.
More information
The Nemours Foundation has more about the importance of play.
Source: HealthDay
​