Summer Camp Bummer: Smartphones, Not Bugs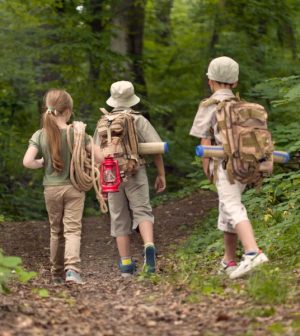 Along with flashlights, sleeping bags and bug repellent, many kids will take a smartphone to camp this summer.
But this could ruin their camp experience, a new study suggests.
Researchers surveyed 620 camp directors, nurses and other staff members at 331 camps in the United States and Canada. Many said campers were so fixated on their phones that they didn't fully engage in camp activities.
Children talked to their parents too often, the study found. Some parents retrieved their child early after getting a call from an upset child without camp staff knowing there was a problem.
Smartphones were also associated with kids being disruptive during instruction, cyberbullying and late bedtimes, the researchers said.
"Summer camps represent a unique opportunity for social-emotional development by allowing children to separate from their usual family and peer environment while learning new skills or spending time outdoors," said study lead author Dr. Ashley DeHudy.
"Parents should envision the kind of camp experience they hope their child will have, and find a camp with a similar culture and mission," advised DeHudy, a pediatrician at the University of Michigan C.S. Mott Children's Hospital.
"If you want your child to have an experience disconnected from social media, look for camps whose policies match that in order to establish the rustic experience you're looking for," DeHudy said in a university news release.
For some campers, the phone takes center stage. "More worried about their phone than the poison ivy bush they're about to step in," one survey respondent wrote.
In another twist, some kids were reluctant to take part in talent shows or other activities because they feared embarrassing videos could be posted on social media.
But cellphones at camp aren't necessarily all bad, the researchers said.
"If your child is attending a tech or science-themed (STEM) camp, then you may be more comfortable with fewer restrictions on device use," DeHudy noted. "As long as families determine what overall goals they have for their children, doing research ahead of time will help them achieve that mission."
The study was presented recently at the Pediatric Academic Societies meeting in Toronto, Canada. Research presented at meetings should be considered preliminary until published in a peer-reviewed medical journal.
More information
The American Academy of Pediatrics has more on children and social media.
Are You Living with Psoriasis?
A growing knowledge of the skin disease called psoriasis is leading to greater treatment choices, including personalized therapies, the U.S. Food and Drug Administration reports.
Psoriasis is an immune system disorder that causes overproduction of skin cells, resulting in scaling, pain, swelling, redness and heat. The condition affects about 7.5 million Americans.
"As we better understand the disease, researchers know more about what specific factors to target in order to develop effective treatments," FDA dermatologist Dr. Melinda McCord said in an agency news release.
There is no cure for psoriasis, so the main goals of treatments are to stop skin cell overproduction and reduce inflammation. Current therapies include medicines applied to the skin (topical), light treatment (phototherapy), or drugs taken by mouth or given by injection.
Doctors used to take a step-by-step approach, starting patients with mild to moderate psoriasis on topical therapy. If that was ineffective, doctors moved on to phototherapy or drug treatment.
​