Sniffing Device Allows Disabled to Write, Run Wheelchairs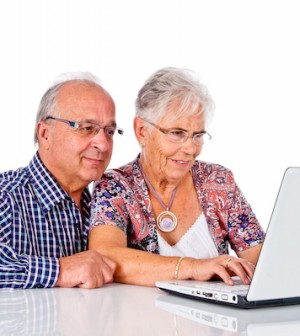 MONDAY, July 26An Israeli research team has harnessed the power of the sniff to help severely disabled people play computer games, express themselves through writing and even move around in wheelchairs.
The experimental "sniff controller" takes advantage of the fact that cranial nerves in disabled people are often not damaged and are still able to send messages to the soft palate (the back of the roof of the mouth). The device registers changes in nasal pressure as the soft palate is being moved. Those changes are translated into electric signals that then communicate to the device.
The researchers, whose findings are published online this week in the Proceedings of the National Academy of Sciences, postulated that the experimental device could help quadriplegics and those suffering from "locked-in syndrome," which is when the patient is aware of their environment but can't respond or move.
"It's a pretty brilliant idea," said Paul Sanberg, distinguished professor of neurosurgery and director of the University of South Florida Center of Excellence for Aging and Brain Repair in Tampa. "It's really a mechanical thing that allows people that don't have other ways to communicate to use sniffing. It gives people who have significant disabilities another option."
Many of these people can only communicate using eye movements, although scientists have been working on different brain-computer or brain-machine interface technologies to expand their abilities, but these are in various stages of development.
As part of the study, one 51-year-old woman, locked in for seven months due to a stroke, was able to use the sniff device to write a message to her family, the first since she had been stricken.
Similarly, a 42-year-old man who had been locked in since a car accident 18 years earlier, wrote messages by sniffing when particular letters were highlighted. It took him only 20 minutes to write his name after first being introduced to the sniff controller.
The first participant was able to "write" at a rate of three letters per minute and the second at 1.5 letters per minute, the researchers said.
And although this might seem slow, the researchers pointed out that Jean-Dominique Bauby wrote the memoir The Diving Bell and the Butterfly using only blinks of his left eye to sort out letters. This worked out to about one word every 2 minutes. Bauby was locked in as the result of a stroke suffered during his 40s.
The device also enabled quadriplegic individuals to write and even to navigate the Internet and write e-mails.
Sniffing also equaled mobility for many participants in the trial. Both healthy controls and disabled people were able to navigate a 115-foot path, including several turns, using a series of simple commands: forward was two sniffs in; backward was two sniffs out; left was sniffs out then in; and right was sniffs in then out.
Often, it took only 15 minutes of practice to "drive" successfully.
The researchers believe that most people can breathe independently of sniffing, ruling out the possibility that an accidental breath might activate the wheelchair commands and cause a disaster.
But, even so, the device can be programmed with "safety breaks," for instance, adding extra commands so as to minimize the possibility that the wheelchair would be activated accidentally. It's just that such controls would slow things down.
The authors are now planning to test the sniff controller in other types of patients, including those in a vegetative state.
The Weizmann Institute in Israel, which conducted the trial, has applied for a patent on the technology.
More information
Learn more about assistive technologies from the University of Washington.
Source: HealthDay
​