Gender Differences Seen After Aortic Valve Surgery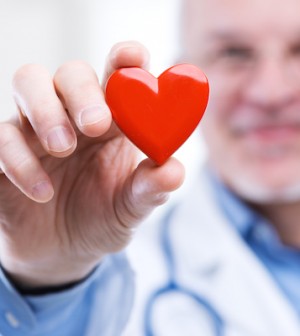 TUESDAY, Sept. 14Genetic differences may explain why enlarged hearts shrink faster in women than in men following aortic valve replacement, say researchers.
Heart enlargement occurs when aortic valves become narrowed (aortic stenosis), resulting in limited blood flow through the aortic valve. An aortic valve replacement corrects this problem.
The German researchers said their study of 53 female (average age 72) and 39 male (average age 67) patients found that heart enlargement regressed faster in the women than in the men after aortic valve replacement. This may be because of genetic differences that cause men's hearts to develop more fibrous tissue after surgery.
Left ventricle enlargement was more common in women than in men before aortic valve replacement. After surgery, the prevalence of this condition fell more in women (86 percent to 45 percent) than in men (56 percent to 36 percent).
Men had higher levels of fibrous tissues in the heart after surgery and higher levels of fibrous tissue gene expression.
The study was published Sept. 13 in a surgical supplement of the journal Circulation.
"We show for the first time that elderly women and men differ in their gene expression related to fibrous heart tissue. We hypothesize that women with aortic stenosis develop a different form of the same disorder," study co-author Dr. Vera Regitz-Zagrosek, director of the Institute of Gender in Medicine at Charite University of Medicine in Berlin, said in a journal news release.
The findings need to be replicated in larger trials already under way, but may lead to new ways to slow the increase of fibrous heart tissue after aortic stenosis, the researchers said.
More information
The MedlinePlus Medical Encyclopedia has more about aortic stenosis.
Source: HealthDay
​